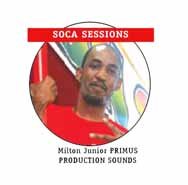 At the Catalogna Hall on Nov. 12
Did you guys hear that The Vincy Bad Boy "Problem Child" is coming to Montreal November 12th?
Well  let me first and foremost say Happy belated Thanksgiving to all the  Montreal Community Contact readers.
Always remember we are blessed in  so many ways; many things we take for granted but we should stop and  be thankful each and every day.    Fall season is here and this Miami carnival, which just past was a  wet one because of Hurricane Matthew.
Despite cancelations of events and flights the  parade and vibes still went on. Most Soca lovers know that after Miami carnival is the time that most artists are releasing their 2017  hits.
We have two months left before we hit 2017 and the  question I ask myself knowing that Touch of Red, which is the last Soca fete for the year featuring a live act, is around the corner.
How did 2016 treat the Soca lovers?
Compared to 2015, this year had less events featuring live performances in Montreal. If we calculate precisely the  amount of events featuring Soca acts last year I will say seven but  for this year I can only recall five events thus far.
Over the  years, the number of international Soca stars performing in Montreal  has dwindled significantly.
Is it that promoters in Montreal do not find it  profitable to bring Soca artist or is the Soca scene just dying  because of lack of support?
"Touch Of Red", is Montreal biggest end-of-season event that features last live Soca performer  of the year.
This year Problem Child comes to town. He was born in Kingstown, St. Vincent and  raised in Troumaca, a little village on the leeward side of the  island where he was first introduced to music through his  uncle (DJ Power). At 10, he and his family moved back to  Kingstown where he excelled in school  was an avid sports player, but he never lost his love for music.
As a  teenager he became interested in Hip Hop music and even considered  becoming a rapper amidst heavy ridicule for being too Americanized.
Problem Child's interest in soca music peaked after he  migrated to the U.S.A. It was the lack of it that made him appreciate  it. He  was introduced to Vincentian producer Godfrey  (Cherry) Ince, who helped him produce his first soca release (Revelers  Anthem) also know as "Na Na Naaa Na".
It was not until 2005 with the release of  "MAD," that his music started to take him places. He traveled to Toronto, Canada for the first time as an artist with the success of the song.    In 2007 Problem Child reached worldwide acclaim with his hit "Party Animal" which gained him the Vincy Mas Road March title and allowed and took him to the International Soca Monarch in Trinidad in 2008.
He entered the Vincy Soca Monarch for the first time in 2008 with his song "For Life" and placed third.
Since then Problem Child has been consistent with his Soca hits and as   a songwriter.  On Saturday November 12, Problem Child will be performing at Catalogna Lounge in Lachine.
Be free to send your feedback to  Productionsounds@gmail.com or Instagram : @Productionjr
Production Sounds Chart  
1 Calling in Sick – King Bubba
2 Fever – Vybz Kartel
3 So Good – Problem Child
4 Picture Perfect – Lyrikal
5 Ova Dweet – Popcaan
6 X Man – Farmer Nappy
7 Friend Ting – Problem Child
8 Don't Come Back – Tarrus Riley
9 Trophy  – Problem Child
10  Socavivor  – Benjai