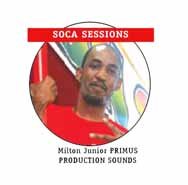 Flight Soca Sessions Vol 2 is free and available
This the time of the year when I can use my two favorite four-letter words in one sentence, Free and Soca.
I think every right thinking music-lover should have a 2015 Soca mix to jam in their car or on their iPod? As such, this is the right place to be, because my annual Soca mix title "Flight Soca Sessions Vol. 2" is packaged and available to the public for free.
Flight Soca Sessions, the CD came about because many of my listeners and supporters of my radio show expressed difficulty finding an up-to-date Soca mix by a Montreal Deejay.
Last year when I introduced it to Montreal, their concept was based on two things: "Soca Sessions," the name of my radio show on CKUT 90.3fm and "Flight" based on the fact that this CD is meant to transport listeners to the Caribbean.
Personally, it's my way of giving back to the community and supporters.
After the tremendous success and high demand of Flight Volume One, I was approached by Emrit Kalliecharan, owner of Montreal Caribbean Curry House and a big fan of the CD, Who said to me: "Junior, we really appreciate and admire what you're doing. Next year marks our 35th Anniversary and we will like to be part of Flight Soca Sessions Vol 2.
[The Caribbean Curry House serves the best Caribbean dishes, including rotis and meat and fish platters, using only the finest quality ingredients. The place, a centre of community activities, has been warming the hearts of Montrealers since 1980.]
This year, with the sponsorship of Caribbean Curry House, I have decided to get Leroy, a puppet character from the Santana series of LEXO TV, to host Volume 2. LEXO TV is a Trinidad and Tobago-based film production company that primarily creates innovative puppet film shorts that reflects the diversity of the Caribbean Diaspora.
Flight Soca Sessions Vol. 2, includes 51 Soca tracks, all 2015 heavy-hitters.
It's available at Caribbean Curry House, 6892 Victoria Ave. Triple A Records. 6895 Avenue Victoria, Montréal, QC H3W 2T3, Canada or contact me directly, Productionsounds@gmail.com or (514) 862-6321, via Text/WhatsApp. Again, thank you all for the support. For free!
Island Fact
– May 3rd 1494 – Columbus first European to reach Jamaica, and he names it "St. Iago."
Production Sounds Chart
01. Party Done – Angela Hunte & Machel Montano
02. Loner – Lyrikal
03. Body Specialist – Gully Bop
04. Like A Boss – Machel Montano
05. No Apology – Kerwin Du Bois
06. Lucy – Destra
07. Circles – Kerwin Dubois
08. New Jordans – Vybz Kartel & Russian
09. My House – Farmer Nappy
10. Pop A Bottle – Machel Montano
Send feedback to productionsounds@gmail.com or Instagram: @Productionjr