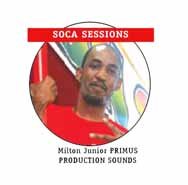 In the previous issue, we talked about how our Caribbean Christmas traditions are slowly disappearing.
I was attempting to create an awareness of a Caribbean Tradition that provides an important connection with the past: our roots, heritage and core values are all part of that connection; they bring value and meaning to our lives.
Understanding and sharing our Caribbean traditions, heritage and belief systems can provide insight into present day life. Hence the reason I urge you to continue supporting my annual Christmas show on CKUT 90.3fm and Loveman Kent's annual parang dance on Boxing Day.
On December 25, I will be doing my 9th Annual Christmas Show, titled "Island Riddims", live on CKUT 90.3FM from 12 noon to 6 pm. Six hours of pure Parang/Soca vibes, and my contribution to our Christmas tradition. Also, on December 26th, Boxing Day, Loveman Kent will be doing his annual Parang event at Caribbean Paradise. This features a few local acts and Trinidad-born Joel Davis, aka "Connector", a singer/songwriter.
He produced his debut CD, titled "Explosive", in 1999 and has been making a contribution to the Toronto Soca scene since he burst on the scene in 1992 with hits like Bump and Shake Yuh Bam Bam, Doh Hide It, and others.
Supporting traditions can provide comfort as well as a blueprint of things to do at certain times, such as making Sorrel. If there's no sorrel drink, there's no Christmas!
Every Christmas, most of us indulge in a nice cold glass of sorrel drink with our Christmas pudding, ham, turkey and other delicious holiday dishes. Not only is the sorrel drink a tasty Caribbean Christmas treat, it also has several nutritional benefits—vitamins and minerals, including vitamin C, calcium, niacin, riboflavin, and more.
Sorrel is a bushy shrub, which has been growing for hundreds of years. It has spikes or chalices of reddish-greenish flowers that become purplish when they bloom in the summer. It is a slender plant, which grows to roughly 60 to 70 cm in height, with oblong leaves, a juicy stem, and roots that grow deep into the ground.
If you have never tried it or made it, here is the recipe. Make it and drink it; you will enjoy.
1 lb. sorrel
2 quarts of water
3 oz. ginger Pimento
2 lbs. sugar
Start by boiling water in a large pot, adding sorrel, and then small pieces of ginger. After the water comes to a boil and the ginger starts to turn the water red, stir occasionally then turn off the stove.
Cover the pot with the mixture and allow it to sit overnight to ensure that the mixture brews properly.
Use a strainer and pour the liquid into a pitcher or bottle. Add a few pieces of pimento and sweeten to taste. Chill and serve!
Island Facts:
– Dec. 15th. 1997 – UNESCO enlists Morne Trois Piton National Park  as a World Heritage Site. The park is the first and only enlisted natural site in the Eastern Caribbean.
– Dec. 16th 1996 – Donovan Bailey, Manchester, Jamaica, Canada 100 m.runner (2 Olympic gold). Be free to send your feedback on any of my articles to Productionsounds@gmail.com or Twitter: @Productionjr
Production Sounds Chart
1 Temperature – Machel Montano
2 Numb – Benjai
3 Need it – Machel Montano
4 Bum Bum – Third Bass
5 Oh Yah – Olatunji
6 Carnival Today – Bunji
7 How she like it – Hypa Sounds
8 No Behavior – Cloud 5
9 Party – Shal Marshall
10 Rental – Farmer Nappy
Soca Sessions – Saturday 2am to 4am (90.3FM) WWW.CKUT.CA
Island Scoop – Community Contact Article
www.commuintycontact.net
FaceBook – Production Sounds (Montreal)