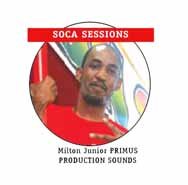 This February 8 and 9 marked the end of the 2016 Carnival season In Trinidad and Tobago.
For many Soca lovers, life may be returning to normal, although this may not be the case for many artists and DJs in the Soca entertainment business or Caribbean Community, myself included.
The love for carnival and Soca comes from Trinidad, but the widespread interest has just been sparked. And I always try my best to give Soca lovers and readers real-time information about Caribbean culture, especially when it comes to Trinidad Carnival.
Most times, you the readers open the Montreal Community Contact Newspaper to the Island Scoop section awaiti
ng results from the various competitions held in Trinidad during carnival season.
Before I give you the results, let me toot my own horn a little bit by reminding you of the last issue, where I told the readers to look out for the upcoming artist VOICE with his first release titled "Cheer Of Life" in the Soca Monarch. Remember, this year's International Soca Monarch competition, merged both Power and Groovy into one category.
This year's competition was tight, which is the reason why they called it "the year of young talent."
Most of the veteran Soca artists either never took part or didn't make it to the finals.
All in all, those who entered the Soca Monarch were strong competitors, but only one must prevail…
2016 Finals Results for the Digicel International Soca Monarch Competition:
1st. Aaron St. Louis
aka Voice
2nd. Akeem Chance
aka Preedy
3rd. Patrice Roberts (Tie)
4th. Dexter Stewart
aka Blaxx (Tie)
The Caribbean Breakout Artist competition started in 2014, giving up-and-coming artists the opportunity to be recognized.
Carib Breakout Artist of the Year 2016
1st. Jadel
The Road March song for
Trinidad and Tobago
Carnival 2016 results are:
1st. Waiting on the Stage
Machel Montano – 328 pts
2nd. People Kes – 29 pts
These are the Trinidad and Tobago Panorama 2016 results for the Large Bands Category:
1. Desperadoes
– 285 Points
2. Supernovas – 284
3. Renegades (Tie) – 283
3. Phase II Pan Groove
(Tie) – 283
5. Invaders – 281
6. Trinidad All Stars – 280
7. Silver Stars – 277
8. Redemption Sound
Setters – 276
9. Fonclaire – 272
10. Skiffle – 266
Congratulations are extended to Mr. Devon Seale on being crowned the new Calypso Monarch of Trinidad and Tobago for Carnival 2016.
1st. Devon Seale
2nd. Helon Francis
3rd. Roderick Gordon
4th. Karene Asche
5th. Selvon 'Mistah
Shak'
Noel
6th. Dr. Hollis
Liverpool
7th. Heather McIntosh
8th. Victoria C. Rahim
9th. Winston 'Gypsy'
Peters
10th. Winston Rawlins
11th. Carlos 'Skatie'
James
12th. Marsha Davis-
Clifton
The following results are for Downtown Port-of-Spain, not the major results that are judged at the Queen' s Park Savannah.
1st. 'Tears Of…' – Ronnie/Caro The Mas Band
2nd. Lost Tribe The Savannah – The Lost Tribe
3rd. A Touch of Woodbrook Then & Now – Trini Revellers
The National King and Queen of the Bands took place on Tuesday February 2, 2016 at the Grand Stand Stage of the Queen's Park Savannah. This show was formerly a part of the Dimanche Gras showcase.
Here are the results for the King of the Bands (Adult/Senoirs):
1st. Ted Eustace –
Psychedelic Nightmares 419
2nd. Ravi Lakhan
– Night of Horror 415
3rd. Jha-Wan Thomas –
The Dying Swan –
RasNijinskyDrag as Pavlova 412
4th. Fareid Carvalho –
Guardian of the Sun 409
5th. Wade Madray –
Quecha the Spirit of Spring 399
Here are the results for the Queen of the Bands (Adult/Senoirs):
1st. Gloria Dallsingh – Artemisia D Warrior Queen 427
2nd. Peola Marchan – Yahacuna the Goddess of Tulocbb 409
3rd. Kay Mason – Sounds of Everlasting Love 407
4th. Roxanne Omalo – Medusa The Last Gaze 405
5th. Savitri Holassie – Mystical Goddess of Light and Life 403
Feel free to send your feedback on any of my articles to
Productionsounds@gmail.com or Instagram: @Productionjr
Production Sounds Chart
01. Cheer Of Life – Voice
02. Waiting on the Stage – Machel Montano
03. Girls Meet Brass – Salty
04. Mon Bon Ami – Angela Hunte
05. Human – Machel Montano
06. Take Over Town- Bunji Garlin
07. Scene – Nutron
08. Party – Shal Marshall
09. BamBilam – Farmer Nappy
10. Dip and Roll – Lyrikal