ROSIE AWORI
The showcase of talent currently on display at the Centaur production of Choir Boy represents a proud moment for Canada's Black theatre professionals.
And audiences are bei
ng treated to a remarkable display and it's evidence enough that, the call for diversity on stage and screen in Canada has long been a valid one.
Choir Boy written by acclaimed African-American Tarell Alvin McCraney, whose credits include a string of prestigious awards such as the Whiting Award and Steinberg Playwright Award, the New York Times Outstanding Playwright Award as well as the London's Evening Standard Award for Most Promising Playwright.
Mike Payette
The play is brought to life under the dir
ection of Mike Payette, a young but well-seasoned director with a seemingly endless history in Canadian theatre that include performances with The Citadel, MTYP, The Grand, Factory Theatre, Neptune, and the National Arts Centre.
Payette who is currently artistic director at Geordie Productions, also had strong connections to the Black Theatre Workshop, Imago, Repercussion Theatre and The Segal.
His directing credits include the Montreal English-language premiere of Michel Tremblay's Hosanna for which he copped a META (Montreal English Theatre Award) for Outstanding Direction as well as Djanet Sears' Harlem Duet for BTW.
The former Artist-in-Residence at Neworld Theatre in Vancouver is currently a board member of the MAI (Montréal, arts interculturels) and the Quebec Drama Federation.
Floydd Ricketts,
So much of the power of Choir Boy hinges on the music that keep audiences spellbound for much of the play.
And because the play came without a musical score, all of it flowed from creative genius of Floydd Ricketts, who conceived and wrote the music for entire repertoire of songs that punctuated Choir Boy and added to brilliance of the play.
The Toronto born arranger and conductor is completing his PhD in Music at McGill's Schulich School of Music. He specializes in African-American Spiritual as well as classical and folk music from the African diaspora.
He is currently serving as conductor of the McGill University Chorus, and as well as assistant conductor of McGill Schulich Singers.
Quincy Armorer
Theatre veteran
Quincy Armorer brings a powerful presence to the play in his role as Headmaster Marrow. The current artistic director of BTW, is also an Associate Artiste in Residence of the English Section of the National Theatre School of Canada. He studied Theater at Concordia University and Classical Theater at the Birmingham Conservatory of the Statford Festival and has a long association with all the major theatre companies in Montreal.
"When I started out in theatre I was both working 9-5 and acting. But the past 10 years, have seen me fully devoted to the theatre and it has been good to me." He said in an interview with the CONTACT.
He has been nominated five times for the Montreal English Theater Awards (METAs), including twice for Best Actor with The Adventures of a Black Girl in Search of God (NAC / Centaur / BTW) and Much Ado About Nothing (Repercussion Theater).
STEVEN CHARLES 
Montreal bo
rn Steven Charles is captivating in his role as Pharus Jonathan Young. He studied professional theatre at John Abbott College and moved to New York to pursue his career in 2008 and has been on the move ever since, travelling across the US and Europe. His credits include Hair, Dream Girls and the Tony award winning, In The Heights.
"It is such an honor to be coming back to Montreal ten years later for the opening of the Centaur's 50th season as the lead in a play as poignant as Choir Boys." He said to the CONTACT before he went for rehearsals. "To me this tells me that there are more opportunities now for Black actors than there were in the past."
Vlad Alexis
Two years ago Vlad Alexis e
arned the 2016 Gloria Mitchell-Aleong Award from BTW. He added his special touch to his character Junior and with his every line or move was source of humor.
He recently graduated from the CBC Actors' Conservatory at the Canadian Film Centre in Toronto and has appeared in several local productions including Scapegoat Carnival (Segal Centre) , Hairspray ( Juste Pour Rire) and New Canadian Kid (Black Theatre Workshop,)His performance in Roland Emmerich's Stonewall earned him a nomination for an ACTRA Montreal Award.
PATRICK ABELLARD
Patrick Abellard made
his character Bobby Marrow, a force to be reckoned with in the play.
The 23-year-old is a graduate from the Professional Theatre Program, at Dawson College and earned some recognition as Jacmel in Denys Arcand's latest film: La chute de l'empire Americain. He also appeared in CBC's police drama series: Bellevue you would have seen him as Jim and Centaur small stage presentation of Urban Tales.
Lyndz Dantise
Lyndz graduated back in May 2017 from the Conservatoire d'art dramatique de Montreal. There, he trained as an actor, while focusing on singing and dancing. Lyndz made his acting debut in two major plays this past year in Montreal; Les Fourberies de Scapin and Le bizzare incident du chien pendant la nuit, respectively shown at the Theatre du Nouveau Monde and Theatre Duceppe. Lyndz plays a convincing AJ, in Choir Boy.
Christopher Parker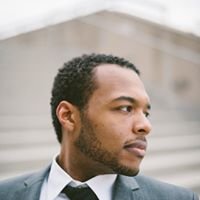 Christopher comes into his role as David Heard in Choir Boy with a Masters of Music in Literature and Performance from Western University where he studied under renowned Canadian baritone Theodre Bareg.
During his
studies, he performed as both L'horloge Comtoise and Le Chat in L'enfant et les sortileges and Pistola in Falstaff.
He also performed with Cedar Rapids Opera Theatre in the children's opera Pinocchio, portraying Mr. Wolf and Dr. Dulcaarma. Christopher values this opportunity to be part of the Canadian premiere of Tarell Alvin McCraney's Choir Boy.
The play runs from October 9 to 28 at Centaur 453 St. François-Xavier,Montreal, Quebec  H2Y 2T1.
Tickets and info. Administration: 514-288-1229 Box-Office: 514-288-3161