Montrealer Michael S'Obrian (Riddum Soljah) made it to Chutney semis
With carnival 2015 i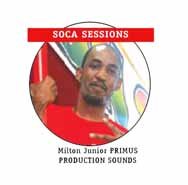 n full swing in Trinidad and Tobago, the soca season is definitely upon us.
So many are wishing  that they already had their flights booked. Either way you know that Trinidad and Tobago Carnival itself is a natural attraction to many foreigners across the globe, and thousands are heading "down the road" for this must-have experience.
Last issue, we explored some of the top songs heating up the  Carnival period.
So let's talk about the International Soca
Monarch which now in its 22nd year.
Also known as Fantastic Friday, this competition is held on the Friday before Carnival Monday and Tuesday bringing the top soca artistes from around the world on one massive stage in the
National Stadium to compete for the Power and Groovy Soca Monarch titles,
We all know that Bunji Garlin and Fay-Ann Lyons bowed out of the competitions in 2012, reason being that they were not happy
with the organizers' contract that demands that all winners must defend their crown.
This year the organizers have agreed to change some  of those rules governing the competition.
In 2015 and onward the reigning monarch in each competition will not be required to defend their title however they will still be obligated
to perform all other aspects of the contract including maintaining the integrity of the brand, making promotional appearances on behalf of
the franchise and to actively promote the ISM competition.
In my opinion there are both positive and negative to the change of the contract. New artists now have a better chan
ce in the competitions as well as the reigning monarch don't feel tied down by a contract. On a negative note, what happens if we don't have artist like Machel Montano and Kerwin Du Bois and many who have raised the standard in the
quality of their music and performances for the competition.
After the changes were announced, reigning Groovy Soca monarch,  Kerwin Du Bois decided  not to defend his  title.
He says he wants to make way for the next "Kerwin, Machel Montano and Destra".
Du Bois also said he only decided to enter the competition last year for his fans but his mission is "not about the competition but the contribution". Since Kerwin announcement the big
question was, what about Machel Montano.
Luckily, Machel keep a press conference on January 20th confirming his participation, for the final
time, in this year's competition.
The International Soca Monarch semi-finals will be on Sunday 25th January and the finals on Friday 13th February 2015.
In closing I  take this moment and congratulate Michael S'Obrian (stage name  "SHOWTIME") Montrealer now doing his thing in T&T, for his efforts in the Chutney Soca Monarch competition.
It was  his first appearance in the competition and he made it as far as the semi-finals which was staged on January 16.
The former front man of T&T Express received the most online votes from fans but it still wasn't enough to take him to the finals.
Montreal is still proud of the man we know as Riddum Soljah now "Showtime".
Island Facts:
– Jan 22nd 1988 -1st-class cricket debut of Brian Lara in Trinidad & Tobago vs. Leeward Islands
 – Feb 7th 1986 – Haitian President-for-Life Jean-Claude Duvalier flees to France; Henri Namphy becomes leader of Haiti.
 
Be free to send your feedback on any of my articles to
Productionsounds@gmail.com or Twitter: @Productionjr
 
Production Sounds Chart
01. Like A Boss – Machel Montano
02. Raze – Fay Ann Lyons
03. Cloud 9 – Lyrikal
04. Pop A Bottle – Machel Montano
05. No Apology – Kerwin Du Bois
06. Motivation – Shal Marshall
07. Million – Kes The Band
08. Our Time – Bunji Garlin
09. Lucy – Destra
10. Ola – Olatunji