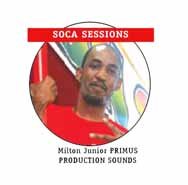 We may have different religions, different languages, different colored skin, but we all love music and dance. Dancing will always play an important role in your culture as we express our emotions, feelings and opinions through the movement and manipulation of the body.
That's why dancing is a great form of exercise.
Picture yourself dancing Mambo, ChaCha, Calypso, Meringue, and Salsa, Rock and Roll; they are all the main ingredients in Zumba.
So what is Zumba?
Zumba is a fitness exercises that focuses on
resistance training as well as interval cardio training in the guise of Latin style beats and dance moves.
The short exercises promote fat and calorie burning and makes muscle toning easy and achievable.
Body movement and swaying to the different Latin beats is the one of the basis of Zumba fitness, and it helps enthusiasts shed pounds while having fun.
On January 19, I was invited by two Zumba instructors to bring a Soca party vibes to their classes, which they deliver, in Deux-Montagnes.
When the call first came, I was like Deux-Montagnes! Northeast shore of Deux-Montagnes Lake, west of Montreal, Deux-Montagnes? Who really knows Soca music up there.
Little to my surprise, Machel Montano has been working with The Educational Division of Zumba Fitness for some years, that's why his music is widely used in most Zumba classes around the word.
Participants of this particular Zumba class may not be as up to date to Trinidad & Tobago Soca music as the average Caribbean person but it was my pleasure to bring piece of my culture and music to Deux-Montagnes.
So thanks to Zumba instructors Cheryl Dore and Kimberly Assels for allowing me to venture into a new experience.
Also to all that attended the class, it was heart warming
to see Soca has no limits. Anyone interest in attending any of these Zumba classed in Deux-Montagnes on Tuesdays or Wednesday nights simple email: kim.cheryl.zumba@gmail.com
Island Facts:
– Jan 22nd 1988 -1st-class cricket debut of Brian Lara in Trinidad & Tobago vs Leeward Islands
– Feb 7th 1986 – Haitian President-for-Life Jean-Claude Duvalier flees to France, Henri Namphy becomes leader of Haiti.
Be free to send your feedback on any of my articles to
Productionsounds@gmail.com or Instagram: @Production
Soca Sessions – Saturday 2am to 4am (90.3FM)
WWW.CKUT.CA
Island Scoop – Community Contact Article
www.commuintycontact.net
FaceBook – Production Sounds (Montreal)