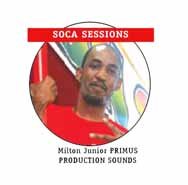 As we get closer to February 16th, 17th, known as Trinidad and Tobago Carnival Monday and Tuesday this year. Soca lovers are expecting real time information about Trinidad Carnival every time they open the Montreal Community Contact Newspaper. That's why I make sure that the Island Scoop article becomes the one stop for Soca news during Trinidad and every other Carnival around the world. So what has been going on since the last issue!  Chutney Soca Monarch has crowned new King's.
Police Officers was shooting at Soca artist "Benjai" and the
International Soca Monarch finalist list is out.
Chutney Soca Monarch Grand Finals was on Saturday January 31. This year they celebrated its 20th Anniversary, with a few changes to the competition. Including the known Chutney Soca category they included a new category called "Traditional Chutney".  Amazingly both categories were coped by the dynamic duo Ravi B & Rikki Jai, who sang "Chalo Awo Radha" for Traditional and "CSM 20" for the Chutney Soca.
Now to my favorite Soca artist Rodney Le Blanc aka "Benjai". Some may look at him as a rebel or call him a trouble some person because of the fact that his name is always in some controversy with the law. Now is it true the police officers open fire at Benjai? The answer is yes.
After performing at the International Soca Monarch Semi-Finals on Sunday January 25 at the Queen's Park Savannah, Benjai was heading out of Port-of-Spain in a vehicle, which he was a passenger.
According to reports, the vehicle in which Benjai was in, was driving dangerously close to the escort detail which was taking acting President Timothy Hamel-Smith to the airport where he was to meet with President Anthony Carmona, who was returning from Bolivia. At one point, one of the police vehicles in the detail slowed down and a policeman leaned out and fired shots at the vehicle in which Benjai was. One of the bullets blew out the tires and the driver was forced to stop but the police vehicle didn't stop and another police vehicle arrived on the scene later. Debates are going on as if criminal charges should be brought against Benjai and company for trying to breach the escort that day. Officers stated that Benjai and accompany in the vehicle are lucky to be alive. In situations like this they are trained to use deadly force, but restrained from that the night of question.
Lets congratulate Benjai and the following Finalists, who will compete on Fantastic Friday (February 13) at the International Soca Monarch Finals at the Hasely Crawford Stadium in the Groovy and Power Soca
Monarch Categories!
ISM 2015 FINALISTS GROOVY SOCA MONARCH
Darryl Henry (Farmer Nappy,) Destra Garcia (Destra,) Devon Martin (Lyrikal,) Dexter Stewart (Blaxx,) Erphaan Alves (Erphaan Alves,) Gamal Doyle (Skinny Fabulous,) Kendrick George (Chow Chow,) Nadia Baston (Nadia Batson,) Nicholas Sealy (Fadda Fox,) Olatunji Yearwood (Ola,) Osvaldo Reid /Reshawn Ince (Leadpipe & Saddis,) Ricardo Drue (Richardo Drue,) Rodney Le Blanc (Benjai,) Roderick Gordon (Chucky)
ISM 2015 FINALISTS POWER SOCA MONARCH
Dexter Stewart (Blaxx,) Heaven Charles (Snakey,) Hollice Mapp (Mr.Killa,) Kernal Roberts (Kitch,) Keshorn Hazzard / Stephen Marshall (Squeeze Head /Shal Marshall,) Kris Persad (KI,) Machel Montano (DEFENDING CHAMPION,) Neil Iwer George (Iwer "King" George,) Nikki Crosby (Granny,) Patrice Roberts (Patrice Roberts,) Shurwayne Winchester (Shurwayne)
This year International Soca Monarch we have the most variety of other islands in the finals.
Island Facts:
 
– Feb 7th 1986 – Haitian President-for-Life Jean-Claude Duvalier flees to France; Henri Namphy becomes leader of Haiti.
 
– Feb 10th 1989 -, Tony Robinson of Jamaica becomes Nottingham's 1st Black sheriff
Productionsounds@gmail.com or Twitter: @Productionjr
01. Like A Boss – Machel Montano (Monk Monte)
02. Party Done – Angela Hunte & Machel Montano
03. No Apology – Kerwin Du Bois
04. Cloud 9 – Lyrikal
05. Pop A Bottle – Machel Montano
06. Raze – Fay Ann Lyons
07. Come From – Erphaan Alves
08. Motivation – Shal Marshall [Music Video]
09. My House – Farmer Nappy
10. Loner – Lyrikal