Soca music on the move
The first step toward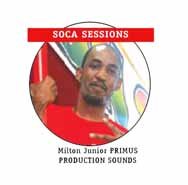 s success is taken when you refuse to be a captive of the environment in which you first find yourself. It's human nature at times that we often become relaxed in our comfort zone and refuse to think or experiment outside the box.
Thanks to a few Soca artists, promoters and contributors in the industry that are still striving to make a difference.
Creating no limits for Soca music such as Bunji
Garlin, KMC, Allison Hinds, and of course Machel Montano.
For long Montano has been in his own class in the realm of Soca music and again has proven so when he walked away with the 2014 Soul Train Award for 'Best International Performance.'
Success is not new to Machel Montano and Bunji Garlin who now have one thing in common. They both are now winners of this special award.
Machel Montano has been nominated on three previous occasions in 2011 and last year he lost out to the Soca Viking Bunji Garlin with Differentology.
This turned out to be his big year with his mega 2013 hit Ministry Of Road.
He faced a line-up of hard-core international stars in the highly contested category including: Davido, Nico & Vinz, Sam Smith, Shaggy feat. Ne-Yo and Ziggy Marley.

The win is indeed a great accomplishment for Machel Montano, Soca Music, Trinidad and Tobago and the Caribbean Soca music and a door opener for other artistes.
The award comes two weeks before the singer's 40th birthday, and stands as one of the best gifts that he could receive.
And it's well deserved for an artist with over 30 years in the Soca industry.
Soca Lovers can catch the Soul Train Award Show on the 30th of November on BET.
Touch of Red 2
On a smaller scale in Montreal:  Thanks to all who came out to my most recent party: Touch Of Red 2.
This event showed us that the same effort has proven that venturing outside of your regular environment can result into success.
I would like to thank the following people who contributed towards the success of Touch Of Red 2 featuring Fireman Hooper on November 8th 2014. First and foremost the creator with who
none of this would have been possible, My Family, Itasha Skerritt, Butcher T, CKUT 90.3fm family, CJLO and (Caribbean Calalloo) all my DJs, Curry House (Savi), Daddy Ghost and to all the supporters who came out that night.
Throughout my time in Montreal everyone tend to label me the Soca man. Not only the Soca man in Montreal but also I have been called the "Trini boy" for the very fact that they say everything I touch ends up with a Trini flavor.  Touch Of Red 2 took me out of that environment and placed me into Vincy territory. Besides being an overall success, with the help of
Fireman Hooper and DJs I was able to introduce a lot of first timers to as I called underground Vincy soca.
It was a beautiful sight to see the Vincy soca lover's party hard as they support their very own King of Soca
"Fireman Hooper".
Look out for Touch Of Red 3 when we cater for the
Bajans.
Island Facts:
– Nov 25th 1975 – Suriname gained independence from the Netherlands.
– Nov 28th 1967 – Dancehall lover's rock artist Sanchez was born on this day.
Be free to send your feedback on any of my articles to
Productionsounds@gmail.com or Twitter @ProductionJr
Production Sounds Chart
01. Ola Ola – Olatunji
02. I'm Phenomenal – Benjai
03. Ah Feeling – Lead Pipe & Saddis
04. Respect the Elders – Crazy
05.  Vagabond – Ricardo Drue
06. Benup – Porgie and Murda
07. Ducking – Fadda Fox
08. We Have It – Lyrikal & Problem Child
09. Rum Meeting – Fireman Hooper
10. Carnival Addiction – Lead Pipe
Soca Sessions – Saturday 2am
to 4am (90.3FM)
WWW.CKUT.CA
Island Scoop – Community
Contact Article
www.commuintycontact.net
Facebook – Production
Sounds (Montreal)
Soca Sessions – Saturday
2am to 4am (90.3FM)
WWW.CKUT.CA
Island Scoop
– Community Contact Article
www.commuintycontact.net
Facebook – Production
Sounds (Montreal)