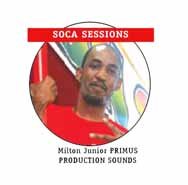 Just got GREAT NEWS! As I'm writing this column, Wednesday morning, October 26, I received a message from Machel Montano's promotional team in real time, thanking me for the promotional assistance, and informing me that Cinema Cineplex (AMC) Forum was impressed by the turn out, and has decided to extend the screening of the movie to November 3rd.
If you didn't get a chance to go watch this Caribbean-made movie, you have a chance to go see it with friends and family and support our culture.
BAZODEE. Still playing in Montreal at Cinema Cineplex Forum, 2313 St. Catherine St. West. Show times: 1:05 PM, 4:00 PM, 7:00 PM, and 9:30 PM.
You know the Soca scene is improving when the King of Soca can have Montrealers flocking to theatres to see his first soca film, Bazodee. All of it in conjunction with the biggest end-of-season Soca fete that's just around the corner.
Last issue I wrote about the deterioration of both Soca events and international Soca artists' performances in Montreal.
It's clear that the Montreal Soca scene is not as great as it was ten years ago, but let that not hinder us, as we are still recognized as the second biggest Soca market in Canada.
One example is Machel Montano, the King of Soca, and his team showed lots of faith in our city by releasing his hit movie "BAZODEE" in Cinema Cineplex Forum on October 21 with only five days notice.
Bazodee, tells the story of an East Indian woman torn between duty and desire after falling for a Calypso singer who is of African descent.
Three different cultural traditions come together in "Bazodee", the melodrama of Bollywood, directed by Todd Kessler.
Touch Of Red is Back
Montreal's biggest end-of-season fete, featuring the last international Soca act for the year, SVG's superstar, Problem Child, on Saturday, November 12.
It's the fourth edition of Touch Of Red and it's guaranteed to be better than the rest as it's the "RAVE EDITION," which means free LED foam glow sticks for everyone.
People have been asking me: Why "RED" and not another color?
My explanation is that out of all the colors found in the rainbow red is the one that is arguably the most used and the most important of all colors in terms of communication and expression.
I strongly believe that everyone has a Touch Of Red, in his or her life. Partygoers must wear something red, doesn't matter what, shoes, lipstick, a handbag or hair.
As the anticipation grows, some say it's because of the artist and the concept, others say that the event comes at a time when Soca music is craved most. Either way, the wait is almost over and the hottest Vincy star, Problem Child, will be here.
Be free to send your feedback on any of my articles to      Productionsounds@gmail.com or Instagram : @Productionjr
Production Sounds Chart:
1 Waist Killer – Destra  
2 Fever – Vybz Kartel  
3 So Good – Problem Child  
4 Jammin Sake – Lyrikal  
5 Ova Dweet – Popcaan  
6 Don't Come Back – Tarrus Riley  
7 Friend ting – Problem Child  
8 Calling in Sick – King Bubba  
9 Trophy – Problem Child  
10 Socavivor – Benjai