From Private Ryan to Kiddies Carnival
Summer is Here! Are you set?
For some, it's time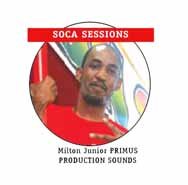 to crank up the  a/c and ready the grill for a barbecue. Backyard party! As we Trinis  say "Liming", bring the music, drinks and let's socialize with friends  members and family.  Summer gives a boost to our culture, and create an opportunity for us  to build new and strengthen old relationships with each other.
June 20, is the official day that summer begins this year but to most  of us it's when the temperature begins to get warmer.
As the listing of all summer events unfolds there's no better way to  enjoy this short-lived season than exploring all the Caribbean events this summer.
So let me give you a run down of what  June has in-store for us:
June 4: "DJ Private Ryan" A veteran in his field, Private Ryan who holds the title as the worlds  #1 Soca Dj as well as Machel Montano international dj.  He will be  live in concert playing a two-hour set for the Soca lovers.
June 19: Comedian Wally British Comedian: The guys will enjoy the comedian and the sisters will enjoy the topics at Westmount High School..
June 17-19: Ottawa Carivibe.  I've been to this three-day festival for a few years now and totally  loving the Soca music, costumes and the beach.  This is an  annual celebration of Caribbean culture in the nation's capital, with a  fusion cultures makes it the largest Caribbean event in Ottawa. This  year I team up with Carivibe for the Friday to bring you a J'Ouvert experience on the beach.. The event will be held on Saturday which features  live performance by Bajan artist Hypa Sounds and Jamaican artist  Sanchez.
Then follow up by the fathers day boat ride held on the  Sunday.    Taste Of The Caribbean June 16-19:  Taste Of The Caribbean (TOTC) is an annual Quebec Caribbean cultural  event. This four-day cultural feast of food, music and arts of 20  Caribbean nations, will be  celebrating its 17th year. This event is pack with food and live  entertainment by artist such as Rupee, Gabby,  reggae group Inner  Circle and more at the Old Port of Montreal..
Montreal Army Fete  June 24: The return of Montreal only camouflage attire event. This Army fete  promises to surpass those of the past as its "The Battle Of Genres".  With a line up of top Djs representing each genre.
Montreal Kiddies Carnival June 25: Montreal CCFA will be having their 5th Annual JUNIOR/KIDDIES CARNIVAL  street parade that start 12pm from Bill Durnam arena to  4988 Rue Vezina (Uptown / Cote Des Nieges) and ending at Van Horne Park (next to the sports Complex). This year the popular J Ouvert band  "Jab Army from Toronto have decided to bring a "Juniors Band".
These are some of the events to look forward for this June as we gear  up for Monreal Carifiesta on July 2nd.
Island Facts :  – May 30, 1845 -commemorates the landing of a ship carrying 217 of  the first indentured laborers from India in Port-Of-Spain on this  day, after a 100-day crossing around the Cape and across the Indian  Ocean and the South Atlantic.      
June 20, 1999 – Junior Braithwaite (49), one of the original  Wailers, was shot and killed in Kingston by unidentified gunman.      
Be free to send your feedback on any of my articles to  Productionsounds@gmail.com or Instagram @Productionjr   
Production Sounds Chart  
1 Champion -Dwayne "DJ" Bravo
2 Cheer of Life – Voice
3 Dem Vincy – Mason
4 Oh Yah (remix) – Olatunji & Runtown
5 Bruck Off Yuh Back – Konshens
6 People – Kes
7 Leh We Fete – Ricki Jai
8 Same Gyal wice – KI
9 Champion Boy – Alkaline
10 Carnival Groupie – Machel Montano