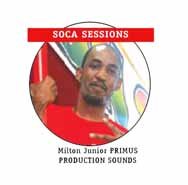 I woke up one morning to a couple of e-mails, Subject: "Island Scoop", in my inbox. I was somewhat reluctant to open them, knowing that not everyone agrees with some of my opinions.
But after reading all of them, I was a little relieved that there were no negative comments towards any of my articles.
They all appreciate the direction I'm going with my articles lately. Some said they like how I'm shedding light on local situations they were not aware of.
There was this one E-mailer who went further and suggested that I talk about what has been going on with the CCFA, listing a few issues such as:
•    Why is it that the current president of Montreal C.C.F.A is allowed to hang on to the post and has been living in Toronto for approximately two years
•    Why has there been no effort on the part of the CCFA to promote Carifiesta
•    Why did the president of the C.C.F.A temporarily suspend the vice president because he was unable to make it to an emergency meeting
•    Why is it that the Montreal Grenadian Association that produced the first J'Ouvert band refuse to take part in Carifiesta again
•    Videotron is now Carifiesta's official sponsor, so why is their logo on the Toronto J'Ouvert band's flyers
•    Why don't the bandleaders create their own organization and control what's being displayed on the streets
•    Why can't the CCFA see that all these J'Ouvert and T-Shirt bands are making it hard for the costumed bands to survive?
Those are just a few of the many issues raised by this E-mailer.
I would admit that there are a lot of things to be changed where the C.C.F.A is concerned, but a few years back, I promised myself that I would no longer be concerned about them and instead focus on other aspect of Carifiesta.
The history of bickering that existed within the C.C.F.A throughout the years discourages me from expecting more.
That said, Carnival time is here again and everyone has something to look forward to.
To me, Montreal Carifiesta isn't just about the masqueraders parading on St. Catherine street, but a combination of Soca, costumes, drinks, J'Ouvert, fetes, liming and more…
Look out for Montreal's First Soca Festival on tap: July 1-2
It's great to see that this year Montreal will be having its first Soca festival. The Montreal Soca Music Festival (MSMF) is a two-day event on July 1 and 2 at the Catalogna Lounge, featuring six artists from the Caribbean together with 23 Djs and MCs.
Performers include Jamesy P, Flipo, Nutron, Ravi B, Brother B, Tallpree, Daddy Ghost and many more on stage at this exciting event.
If you guys are going out after the parade, give this event a try. It could be the beginning of something great.
I would like to thank everyone reaching out. Please continue to give me your feedback.
Production Sounds Chart  
1 Champion – Dwayne "DJ" Bravo
2 Cheer of Life – Voice
3 Dem Vincy – Mason
4 My Dream – Nesbeth
5 Bruck Off Yuh Back – Konshens
6 People – Kes
7 Leh We Fete – Ricki Jai
8 Don't Come Back – Tarrus Riley
9 Champion Boy – Alkaline
10 Carnival Groupie – Machel Montano