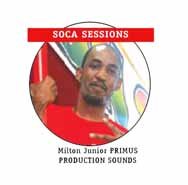 Excitement in the T&T Road March race
As we get closer to February 12 and 13 the dates of Trinidad and Tobago
Carnival Monday and Tuesday this year, Soca lovers are expecting real time information about the festivities  every time they open the Contact.
So let's first start with the Chutney Soca Monarch as it's one of the first major competitions during the Carnival season. 10 Chutney Soca artistes have joined the defending champions to compete for the 2018 Play Whe Chutney Soca Monarch title on Saturday, January 27, at Skinner Park in San Fernando.
The Semi Final round held at Liv Nightlife and saw 34 artistes take tothe stage to make the final cut.
This year, Chutney Soca Monarch Ravi "Ravi B" Bissambhar will not
defend his title at the competition. The reasons are: he will now be focusing his attention on his band "Karma" and working closely with younger artistes to showcase their talent.
The International Soca Monarchs competitions was known to be the world
biggest Soca show and a place where many big name artistes challenge each other for one title. Unfortunately, this competition
has diminished drastically, as most big names refuse to take part anymore.
This year, Blaxx is the only veteran on the list of 35, which includes newcomers such as Rome and the band LFS Music from New York, who are going up against the defending champion, Voice.
The semi-finals take place on Thursday 25th January at the Savannah.
This Carnival all the hype is on the fierce Road March competition asit boils down to Iwer George, Patrice Roberts and Machel Montano vying for thetitle.
On Boxing Day, Iwer George released one of the biggest songs of the season,  'Savannah', one of the top contenders for the Road March title. Followed by Patrice Roberts' early entry of Sweet Fuh Days that continues to reign as a fan favorite. Both Iwer and Patrice have been marketing their Road March songs during each and every stage performance since November and December, while Machel waited patiently to release his Road March song that was rumored to shut down any competitor.
Friday  January 19 came the release of Soca Kingdom, a duet with veteran Austin "SuperBlue" Lyons, which seems to have stolen Iwer George and Patrice Roberts' steam.
'Soca Kingdom' was a big surprise and injected some excitement in the carnival, according to social media, as two legends come together.
More info on Trinidad 2018 Carnival next issue.