When you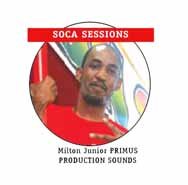 see me in the place, Party Done! We heard many Masquerades singing the chorus of Machel Montano & Angela Hunte's 2015 soca favorite, during Montreal Carifiesta parade.
Well now Montreal 2015 Carifiesta is done
But of course we are left with all kind of bacchanal going on.
This year, members of the Grenadian Association band felt as if the CCFA was treating them unfairly
Also the big Soca event with Destra this year was cancelled last minute leaving many party goes agitated.
Celebrating its Montreal Carifiesta milestone of 40th anniversary this year, I believed it was imperative for us to display more of our culture through it's beauty, art, organization and show the respect of what we struggle so hard and long to produce.
We needed to understand that success is a journey and not a destination and significant achievements only happen in small steps.
Our 40th year should have been a reminder that we have already taken many important steps towards our goal.
I want to take the opportunity to say thanks to TeamSoca.com for increasing my fan base and listenership ten fold.  I invited a few listeners that live in St Eustache to attend Montreal Carifiesta for the first time. After the parade they went back to St Eustache to a pool lime, which I attended as well for, a bit.
I ask what you guys think of our Carnival?
They all reply: "It was nice, we really  enjoy".  I re-ask telling them our Carifiesta needs improvement and I would truly  value honest answers.
They all went silent and looked at each other until one of them said: "Well my 12 year old son saw these two people grinding on the ground and pointed to them
saying mommy thats vulgar". Another person also replied "There were times when you couldn't figure out what's going on in the band because of the outsiders in-between" at that time they all start voicing their thoughts one by one as some say: There should of had more costume
bands,  what is JAB JAB, is that oil on some of those people skin and why…. the list of question goes on.  Listening to them I came up with two points I will like the CCFA to take heed.
First is putting more focus on preventing the outsiders from flooding the bands. Secondly is creating a brochure with all the sections info and what they portrays.
This will surely help the tourist understand what's going on and reduce any stereotypes amongst them about celebration.
Overall the carnival was good but improvement is always needed.
Where's Ola and Loosey?
Olatunji and Destra Garcia: Two big artists. One venue. This was to be the biggest fete of the year.
Many has been asking for one big Soca fete… no rivals or competition just one fete. For this reason I decided to withdraw from being part of any other event and chose to become a partygoer myself.
I purchased my ticket with the expectation of seeing  Destra do her thing on stage but was sadden to find out that this event was cancel a few hours after the parade.  Words can't explain the distress created by this cancelation among fans of Destra and Olatunji. On a positive note I got my ticket refunded at Triple-A Monday evening.
Be FREE  to send your feedback on any of my articles to
Productionsounds@gmail.com or Instagram @ProductionJr
Production Sounds Chart
1 No behavior – CJ Sounds ft Bigred
2 Mash up – Skinny Fabulous
3 Trap Queen – Fetty Wap
4 Lean On – Major Lazer &
DJ Snake feat MQ
5 Way Up Stay Up – Chi Ching Ching ft. Popcaan
6 Puppy Tail – Demarco
7 Like A Boss – Machel Montano
8 Dah Ain Bad – Porgie & Murda
9 Body Specialist – Gully Bop
10 7eleven – Dexter Daps