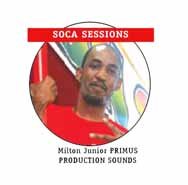 They say the official end of summer is September 21st, 2016. Well I say as soon as the Montreal International Reggae Festival is over, you know summer is coming to a close. To me the MIRF is considered to be Montreal official end of summer event and that's when you know the freedom of time spent outdoors in the warm weather is over.
Looking back at 2016 summer, the last three months have been very productive with a lot of parties and main events in Montreal.
Before I give you the run down on the most recent events, let me first say a huge congratulation to Balgrove Production for having another successful three day International Reggae festival.
The 13th edition of the MIRF was one of the most anticipated Montreal Caribbean event of the year.  Day One of the MIRF belonged to Cocoa Tea, who delivered an amazing hour and a half set.
Despite being his third time at the MIRF reggae still couldn't get enough of him and wanted more.   On Day 2, the night dedicated to Dancehall and Soca and the younger generation. This night always has the most attendance and suppose to be the most vibes with headliners like Mavado, Elephant Man, Spragga Benz.
However, my highlight performers of the night was Soca artist "Olatunji" and "Elephant Man". Mavado as the headliner disappointed with his performance. I felt cheated waiting for him as he came on stage very late and spent most of his time cussing and talking. Maybe I am getting too old but if this was the in thing, this generation has changed a lot. To me Elephant Man "Energy  God" was the star Saturday night as how Sanchez, Brigadier Jerry,  Josey Wales, Charlie Chapin and Romain Virgo were the crowd pleasers  at Day 3, which has throughout the years has proven to be the best night of the festival.
Overall the MIRF is a blessing to this city and highlight of the summer.
As the last days of summer are upon us.
While students find themselves dreading the return of a daily routine, full of exams, homework, studying and assignments before they head back to school. Others wonder what lies ahead besides the cold weather. Rest assured during the fall and winter season we reflect on the high points of the summer that slipped away so quickly, while preparing for it next year. So for the remaining warm days we have, enjoy every chance you can outside.
Island Facts:
Sept 8th 1969 – Jamaican changes currency to the decimal format.
Be free to send your feedback on any of my articles to Productionsounds@gmail.com or Instagram : @ProductionJr
Production Sounds Chart  
1 Calling in Sick – King Bubba
2 Controlla – Drake ft Popcaan
3 So Good – Problem Child
4 My Dream – Nesbeth
5 Bruck Off Yuh Back – Konshens
6 Comfort – Patrice Robert
7 Friend ting – Problem Child
8 Don't Come Back – Tarrus Riley
9 Trophy  – Problem Child
10 I.D  – Ricardo Drue