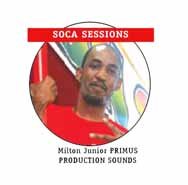 It's been a few years now but I still remember it as if it was yesterday.
I went to a calypso tent at Caribbean Paradise and the host of the night let fly a phrase that remains embedded in my mind.
She said: "whether you be a radio host, artist, or journalist, our first responsibility is not to ourselves, our first responsibility is to our audience."
Over the many years I have been writing for this newspaper only a few times have I ever addressed serious issues concerning the entertainment scene in our Caribbean community; the few times I did, feedback was good, but there was always that few who took it to heart.
Being the type of person who 'mix and mingle' with everyone in the community I hear their complaints and understand the troubling issues they encounter in the entertainment business. The complaints vary, including the CCFA, DJs, promoters, radio shows and others, but most of the time the discussion ends with no resolutions.
We all know people who just can't celebrate when someone else is doing a good thing; as well as people who don't want to see anyone else be celebrated for their good deeds, or even for just looking good. We all know someone who point out your faults and ignore your successes. I bet you have met someone like that.
The fact is our community still suffers from what we call "crabs-in-a-barrel" mentality, especially in the promotion arena.
I used to hear the old folks use the phrase when I was a kid, but never grasped the concept until now. My grandfather was a "seaman". Once, he took me out with him to catch crab. The bucket reached halfway (with crabs) and I was like, "Papa they gonna jump out."
His reply was, "No they won't, you can't see, they too busy pulling each other down. Crabs are like some humans; if I can't escape here, then you cannot too."
And I asked myself why they kept pulling down each other and not helping one another.
This term is used to describe a kind of selfish way of thinking, kind of like, "If I can't have it, neither can you."
As I heard a promoter once say, "Montreal Carifiesta is like a crabs in a barrel event." Here are some of the issues that we face during promotion: smoking in our events, promoters fighting down other promoters, radio shows being biased, and the list continues. People started acting like crabs because they did not accomplish what others have.
On a more personal note, most of my encounters with people who have this crab mentality are around Carifiesta time. Once, I received a harsh email after writing an article about the Carifiesta Carnival Committee. Another time someone once close to me became a stranger because of my affiliation with an event carnival night.
Just last year Carifiesta I wrote my annual round up of all the carnival events and received a long message in my Facebook inbox stating that I didn't include an artist's name and how I was biased. My reply was simple: "Did you read the article or just skim through it? Because I mentioned all the events names; if you actually read it you would've seen. That person later apologized.
In this business overcoming this Crab in the Barrel mentality will be difficult, but I suggest you focus on your audience and continue to build a strong relationship with them. United we stand!
Island Facts:
– May 30, 1845 – commemorates the landing of a ship carrying 217 of the first indentured laborers from India to Port-Of-Spain on this day, after a 100-day crossing around the Cape and across the Indian Ocean and the South Atlantic.
Be free to send your feedback on any of my articles to
Productionsounds@gmail.com or Instagram @ProductionJr
Production Sounds Chart
1 No behavior – CJ Sounds ft. Bigred
2 Credit Alone Done – Vybz Kartel
3 Trap Queen – Fetty Wap
4 Party Done – Angela Hunte &
Machel Montana
5 Way Up Stay Up  Chi Ching Ching ft. Popcaan
6 Lean On – Major Lazer &DJ Snake feat. MØ
7 Like A Boss – Machel Montano
8 Dah Ain Bad – Porgie & Murda
9 Body Specialist – Gully Bop
10 7eleven – Dexter Daps