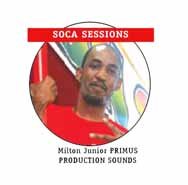 Before getting into some of the events we can expect this summer in Montreal. Let me first say that I am deeply saddened by the news of the passing of Trinidadian beloved calypsonian, Samuel Brigo Abraham and the gifted Jamaican singer, Frankie Paul whose real name was Paul Blake.
The year 2017 marks the 150th Anniversary of Canada.  Most Montreal partygoers and promoters in our  community are gearing up to make this Carnival season the biggest ever.
Carifiesta will be held in the streets of St. Catherine on Saturday July 8th. As summer approaches, it will soon be time to crank up the a/c and ready the grill for a barbecue and backyard party. As we Trinis say "Liming", bring the music, drinks and lets socialize with friends and family.
Summer gives a boost to our culture, and an opportunity for us to build new and strengthen old relationships with each other. Here are a few popular events to look out for and things to do over the next few weeks.
Flight Soca Session Vol 4 (Free Soca CD)
Summer time without soca music, come on now. If you do not have a copy of my annual soca mix hosted by Santana from Lexo Tv. You should get your free copy now as they are limited and available at Curry House, Tropical Paradise Restaurant, Restaurant Jah B Caribbean, Salon Rayshell and in Ottawa "Island Flava Restaurant", or simply text / what's app me at 514 862-6321.
"Carivibe" Ottawa June 16, 17, 18
I've been to this three day festival for a few years and totally loving the vibes, soca music, costumes and the beach. This is an annual celebration in the nation's capital, with a fusion cultures makes it the largest Caribbean event in Ottawa. This year guest is Dj Puffy and It starts with the Friday event call "J'Ouvert On The Beach" , Saturday is the parade of costumes on the street followed by the stage show on the beach. Carivibe close on Sunday with the daytime boat ride called the "Endless Shades Summer".
"Jerk Fest" June 24th
This is an annual Jerk food festival is free entry event and will be taking place on St Jean Bapiste holiday. It's a day to bring out your family, kids and friends to enjoy the entertainment food, drinks etc. This year the Jerk festival will be held in the parking lot of the Soccerplexe in Lachine.
J'Ouvert / Pre-Jump Up" Friday July 7th
Unlike Caribbean J'Ouvert experiences which occurs on the streets prior to costume Mas on Carnival day. Here in Canada when we hear J'Ouvert our first thought is the fete that happens Friday before Carnival. Carifiesta friday we continue to have events in Montreal such as Summer Rave, J' Ouvert, Montreal Soca Fest, my annual J'Ouvert radio show on CKUT 90.3fm and many more.
"Montreal Carifiesta" Saturday July 8th
Our very own Carnival!  The Carifiesta parade takes place downtown Montreal on St Catherine St. Canada Celebrating it's 150th anniversary of Confederation, so this year parade is expected to be grand with a bit more costume bands and floats decorated with the colors of the countries being represented. Look out for Carifiesta after parties, Montreal Soca Fest featuring "Motto" and the return of the annual Soca Rama fete featuring "Voice, Linky First, Ronnie Mcintosh, Eddie Charles, Daddy Ghost, Sure-D" and more.
Jamaica Day" Saturday July 8th
On this day Montreal will celebrate it's Annual Jamaica Day Celebration filled with music and visual arts by leading reggae artists and cultural performers held at Park Jean Drapeau at St Helene's Island. Haven't seen any Reggae\Dancehall events as yet but will keep you posted.
There's a saying amongst the younger generation "YOLO" which means
"You Only Live Once".
My advice for you this 2017 summer is Make it a goal  to experience as many activities as you can. Remember summer waits for no one.
Be free to send your feedback on any of my articles to
Productionsounds@gmail.com or Instagram @ProductionJr
Production Sounds Chart
1 Brave – Dynamite
2 Addictive – Popcaan
3 Single – Orlando Octave
4 Banga – Aidonia
5 Full Extreme – Ultimate Rejects
6 Fast Wine – Machel Montano
7 Whole Hog – Flanka
8  Big Bad Soca – Bunji Garlin
9 Big Girl – Patrice Roberts
10 PotHole – Luta