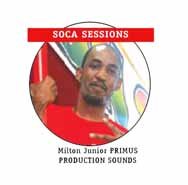 Summer is finally here! It's my favorite season.
So let's  get outside and enjoy the
events of  the Montreal
June, July and August brings a lot of festivals, parties, carnivals, and other events across Canada.  Here are some of the events that just went by and what's in store for the big July 4 weekend.
On Saturday June 20, thousands gathered for the Carivibes celebrations on Petri Island in Orleans, Ottawa.
Due to unforeseen circumstances, Olatunji Yearwood was unable to

make it for the big show. Despite that, the fantastic showcase still went on with performances from Chucky Gordon, Karl Wolf and other performers.
The international Calypso Monarch Chucky Gordon stole the show and his performance was surely the highlight of the day.
Also on Saturday June 20th the Miss Montreal Caribbean Queen Show was staged.
This annual event, which highlights beauty and talent of young ladies in our community, is in its second year.
Competing for the crown were: Adero Johnson – Miss Notre-Dame-De-Grâce (NDG), Akesia Felix – Miss Jolicoeur, Jenelle Alphonse – Miss Ville St Laurent,
Latanique Mayers – Miss Mont-Royal, Rudazia Benn –  Miss Ville
Lasalle, Sharein Samuel – Miss Côte-De-Neiges.
Congratulation to the Queen Rudazia Benn, 1st Runner up was Latanique Mayers, 2nd Runner up Jenelle Alphonse.
As the Americans celebrate their Independence on July 4th, in Montreal we celebrate Carifiesta and Jamaica Day.
I look forward to these local festivals because they help us all to escape our worries for a short period of time.
As it has always been, Carifiesta will include people of all race and cultures having a good time, while Jamaica Day is held on the same day at Parc Jean Drapeau bringing alive the food, the culture and music of Jamaica. These two events will end with after-parties at venues across Montreal, which are strong attractions for out of Towner's,
This Carifiesta on the road you can find me with the T-shirt band, "JUMP FOR A CURE MONTREAL." This is a Breast Cancer Truck on the road and the goal is to raise awareness about the disease as we have a good time. While I'm not directly involved in DJ'ing or promoting any event, I'm planning to attend a few parties and have fun.
I saw a few artists being promoted for the after-parade night scene such as Olatunji, Tony Matterhorn and Destra.
As I have been saying for the past years, a real carnival fete or event is when you
have the opportunity to watch a live performance but for some people cost can become a issue especially when they not sure that the event can deliver.
If not there are several other DJ fetes where the only focus is giving you party vibes.
Either way, choose wisely and make sure you get your money worth have fun and be safe.
Island Facts :
– July 22nd 1962 – An Air France Boeing 707 jet crashes in Guadeloupe killing 113.
 Feel free to send your feedback on any of my articles to
Productionsounds@gmail.com or Instagram @ProductionJr
Production Sounds Chart
1 No behavior – CJ Sounds ft. Bigred
2 Credit Alone Done
– Vybz Kartel
3 Trap Queen – Fetty Wap
4 Lean On – Major Lazer & DJ Snake ft. MQ
5 Way Up Stay Up- Chi Ching Ching ft. Popcaan
6 Puppy Tail – Demarco
7 Like A Boss – Machel Montano
8 Dah Ain Bad – Porgie & Murda
9 Body Specialist – Gully Bop
10 7eleven – Dexter Daps