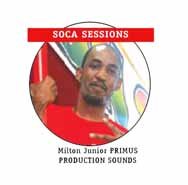 Back in Trinidad, Christmas season was my favourite time of the year. As a kid i enjoyed  receiving gifts and toys, sorrel, visits from friends and relatives and lots of parang music and food.
After moving to Montreal, I observed that Caribbean Christmas traditions are fading into obscurity.
Question time? When last you attended a Parang
party/lime, made black cake, sweet bread or even invited a friend over to share some Sorrel, Ginger BEER  or Ponche de Creme.
Now that I have you thinking. This year, I want  all Caribbean people to put a little more effort into our traditions.
Meanwhile a lot has been going on in the Caribbean entertainment world.
From the 2016 Soca music that is stifling our Parang music on the airwaves to Grenadian artist Lava man being arrested and on $75,000 bail…
"Wey D Parang Gone"?
All I'm hearing on the radio is 2016 Soca, Machel Montano, Bunji Garlin, Hypa Sounds and more.
Parang is a popular folk music that originated out of my homeland Trinidad and Tobago.
It was brought there by Venezuelan migrants who were primarily of Amerindian and African heritage, something which is strongly reflected in the music itself.
This festive season begins in mid-October and goes approximately to January 6, but it seems like the parang season is deteriorating.
We know soca and carnival has become the "Bread & Butter" of most artists, hence the reason for them putting out their music early and are given priority on the radio.
Some soca artist feels the only way there music can be able to penetrate the airwaves and social media enough to make a impact for the coming carnival in Trinidad is by push it out early.
That's why the soca music is over shadowing the parang music now and the young artist are not paying parang much interest cause they see no money in it. That's why hardly any young artists are taking up the parang torch.
Lava Man on firearms related charges
Grenadian Soca Star Lava M
an was arrested and appeared at the St. George's Magistrate's Court on Tuesday,  November10, on firearms related charges.
After officers searched his house the found one semi-automatic sub machine gun and two magazines with 170 rounds of ammunition along with 118 rounds of .45
ammunition, 83 rounds of .40 ammunition and 19 rounds of 9mm
ammunition.
Being charged with the indictable offence of possession of
illegal firearm and ammunition. He was then GRANTED  bail in the sum of $75,000.00 in addition to his traveling documents been taken away; after his lawyer pleaded with the court on his behalf.
Lava Man is due to return to court on February 2, 2016 when preliminary inquiry into the matter is expected to commence.
 Island Facts :
– Nov 25th 1975 –  Suriname gained independence from the Netherlands.
 – Nov 28th 1967 – Dancehall lovers rock artist Sanchez was born on this day.
Be free to send your feedback on any of my articles to
Productionsounds@gmail.com or Twitter @ProductionJr
Production Sounds Chart
1 Need it – Machel Montano
2 Numb – Benjai
3 Temperature – Machel Montano
4 All Ah We – Peter Ram
5 Bum Bum – Third Bass
6 Carnival Today – Bunji
7 How she like it – Hypa Sounds
8 No Behavior – CLOUD  5
9 . Party – Shal Marshal
10 Rental – Farmer Nappy