The summer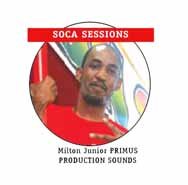 weather has finally settled in and, as usual, yet some people are complaining about the heat and humidity.
I say deal with it cause we have only three months of summer, along with summer events and activities. I say enjoy them; they are quickly coming to an end.
On Saturday, July 18, I had an amazing experience at the annual Vincy Unity Picnic at Brown's Bay Provincial Park in the 1,000 Islands in eastern Ontario. This gathering continues to grow tremendously, as literally thousands of people descend on this beautiful region annually to enjoy this massive Vincy extravaganza. Trust me, if you were never in tune with Vincy Soca or culture, attending this picnic and interacting with those who just came back from Vincy Mas leaves a lasting impression.
Vincy Mas might not have the same international prestige as Trinidad Carnival, Crop
Over or Spice Mas, but St. Vincent's annual festival took place on Saturday, May 2-July 7.
This year, Skinny Fabulous dethroned Fireman Hooper in both Ragga and Power Soca monarch, making it his sixth national Power Soca monarch title and first Ragga title. With his 2015 song 'Mash up International' Skinny won the Power Soca crown on Saturday, July 4, at Carnival City, Victoria Park, and in the Ragga Soca competition, he took home the crown with 'This Island is Mine', a collaboration between himself and pannist Rodney Small.
Shane "Hypa 4000" Husbands is the Road March King in St. Vincent and the Grenadines. Hypa 4000 took the title, after his song "Dutty" was judged the most popular song on the road for Vincy Mas 2015.
Below are the results of the 2015 Vincy Mas Road March and Power Soca, Ragga monarch finals.
Power Soca Monarch Results:
1st – Gamal 'Skinny Fabulous' Doyle – Mash up international
2nd – Delroy 'Fireman' Hooper – Lunatic
3rd – Lancelot 'Madskull' Gloster-Scott – Alyo know me
4th – Rondy 'Luta' McIntosh – Charlie Charlie
Ragga Soca Monarch Results
1st – Gamal Doyle – Skinny Fabulous – This Island is mine
2nd – James Jamesy P – Chronic Disorder
3rd – Delroy Fireman Hooper – Drunk Again
Road March
1st – Shane "Hypa 4000" Husbands – Dutty
2nd – Lancelot "Madskull" Gloster-Scott – Alyo Know Me
3rd – James Jamesy-P Morgan – Chronic Disorder
To my mind, Vincy Picnic was all about sharing, experiencing and learning. And there surely were lots of unity and culture in effect. Vincentians surely dominate our Montreal Caribbean community; that's why learning about their culture is essential.
Vincy Mas is a demonstration of the spirit of Vincentians, and an expression of their determination to support their culture, which is what, to my mind, makes them unique.
As my granny always says, "We Vincy sweet like a 'roast breadfruit' and 'hot like black sand.'
Island Facts:
July 18, 1995 – The Soufriere Hills volcano erupts in St. Lucia, destroying the capital and forcing most of the population to flee.
July 22, 2001 – A statue of World Famous Calypsonian, the Mighty Sparrow is unveiled at St Ann's roundabout, Port-of-Spain.