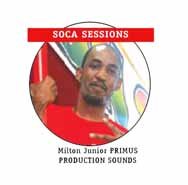 Now that Carnival 2015 is in the history books in Trinidad and Tobago and life may be returning to normal here. But for artistes, dj's and others in the Caribbean communities in the diaspora, the end of carnival in T&T means the beginning of preparation to spread the love of carnival and soca to other cities around the world.
For you Soca lovers who are expecting real time information about the 2015 Trinidad carnival whenever you open the pages of the Contact … yes the results are in for the various competitions.
But first let me "toot my own horn" a little bit. Remember my
first article, this year when I wrote about Olatunji telling you to look out for him in the Groovy Soca Monarch competition…. Well I was right.
He is now the International Groovy Soca monarch.
However it wasn't easy, the competition was tight this year so much so, they called it the Year of the Dark Horse.
But with his carnival anthem Ola –Ola-Ola, Olatunji Yearwood prevailed. Another big name, Farmer Nappy, placed 2nd with 3rd place going to newcomer Ricardo Drue and one-time front-runner Destra Garcia, coming in 4th.

In the Power Soca segment everyone expected Machel Montano to win.  What we didn't know was that Machel would have won with a semi Groovy song (Like Ah Boss- 134 bpm) and not his power composition, Erupt… 2nd place went to Iwer "King" George, 3rd place went to popular comedienne Nickie Crosby posing as Granny. Shurwayne Winchester earned 4th place.
Carib Breakout Artist
Carib Breakout Artist competition started out in 2014, giving the new up-and-coming artists the opportunity to be recognized: Sekon Sta earned the title and Five Star Akil placed second.
King & Queen of Carnival
Roland St George copped the 2015 King of Carnival title with his portrayal, "Ahtwaje" While in the Queen of Carnival competition, Stephanie Kanhai emerged the winner with her portrayal "The Sweet
Waters Of Africa".
King and Queen of Carnival finals results:
Kings
1. Roland St George – "Athwaje"
2. Ted Eustace – "Samaranga: D Wolf Bat"
3. Fareid Cravalho – "Death Desolation Despair: Keeper Of Souls" Queens
1. Stephanie Kanhai – "The Sweet Waters Of Africa" –
2. Roxanne Omalo – "The Phantom Queen" – 396
3. Jonell Dick – "Andromeda Mystical Queen" – 393
This year, the Panorama saw an upset as Massy All Stars; playing a Leon Smooth Edward arrangement of Clive de Telemacque's composition "Unquestionable" easily stopped perennial favorites Phase 11 from scoring a hat trick of wins. Three bands tied for third place.
In the Medium bands segment, Pan Elders from San Fernando repeated as champions
Results Large bands
1. Massy All Stars – "Unquestionable" – 289
2. Phase 11 Pan Groove – "Happiness" – 283
3. Bp Renegades- "Jam Them Hard" – 279
3. Exodus – "De Puna Band" – 279
3. Silver Stars – "Edwin"s Legacy" – 279
Medium Band
1. Pan Elders – "Party Time" -282
2. NLCB Buccooneers – "Rainorama" – 277
3. Steel Xplosion – "Du Du Yemi" – 276
4. Curepe Scherzando – "Bass Man" – 275
At the Dimanche Gras show this year my personal friend Chucky Gordon retained his crown and took home a cash prize of  $1million.
The results are as followed:
Results
1. Roderick "Chucky" Gordon – "The Rose"/"I Believe"
2. Devon Seale – "My Humble Plea"/"Soul Judges"
3. Karene Asche – "Bridge The Gap"/"Every Knee Shall Bow"
4. Heather Mac Intosh – "Ah Gone"/"An Ode For 4"
Yes Machel Montano walked way with the Road March title for the 7th year straight with his big hit, Like Ah Boss. He also placed second in the competition with Party Done and Olatunji copped 3rd prize.
Production Sounds Chart
01. Like A Boss – Machel Montano
02. Party Done – Angela Hunte & Machel Montano
03. No Apology – Kerwin Du Bois
04. Cloud 9 – Lyrikal
05. Pop A Bottle – Machel Montano
06. Raze – Fay Ann Lyons
07. Come From – Erphaan Alves
08. Motivation – Shal Marshall
09. My House – Farmer Nappy
10. Loner – Lyrikal