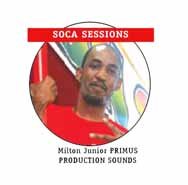 Event marred by Soca man Blaxx cussing out Machel Montano
This year, Trinidad's most southernmost borough, Point Fortin, celebrated its 38th Anniversary "Borough Day" for 5-10 days, from April 29 to May 9.
Highlight of this year's celebration was Machel Montano, one of the biggest names in Soca in T&T performing for the first time in Point Fortin.
And it caused a little bit of a sideshow when fellow
artiste Blaxx threw shade at  Montano, by cussing him out and calling him the devil.
So what is Borough Day?
Point Fortin, which is near the southern tip of T&T, received full status as a borough on April 30, 1980, and that was celebrated with a big ceremony on the streets of the town.
The first year it started off with just about four to six bands, mostly steelbands. It has grown exponentially after that, to a level where it is considered Trinidad and Tobago's second carnival. Many Trinidadians living abroad, especially those who are from Point Fortin and south Trinidad are now choosing to go to Borough Day, instead of the traditional carnival.
And the city has always been a cultural hub of T&T with many of the most popular Soca artistes calling it home, including super stars Iwer George and ten-time Road March title winner, Austin 'Super Blue' Lyons.
After his comeback in Carnival 2013, when he copped the Road
March title and Soca Monarch, which he shares with Machel Montano, and
again this year where they also shared the Road March title, Point Fortin honoured Super Blue by naming a Park and Street after him.
He was born there on May 26, 1956.
Austin 'Super Blue' Lyons, known as the ambassador of Point Fortin, invited
Machel Montano to perform at the 2018 Borough Day for the first time.
They appeared at an event titled The Reincarnation Of The World's Greatest Show, subtitled "The Heart Of D'Bacchanal," which left other events and artistes in their shadow.
At another event on Sunday, May 6th, called Mawning Neighbour,
Soca which was also affected by a low turn out because of Machel's appearance elsewhere, artist Blaxx decided to lash out at him.
Blaxx was captured on video that went viral saying, "F*** Machel" and later calling him the Devil.
Machel responded by telling Blaxx: "I love u bro."
A couple days later, Blaxx' apologized for his outburst, saying he was reacting to statements Machel made in Jamaica saying that their Carnival was the best in the world.
Island Facts:
– May 3, 1494 – Columbus discovers Jamaica, Jamaica discovered by
Columbus; he names it "St, Iago."
Be free to send your feedback on any of my articles to
Productionsounds@gmail.com or Instagram @PRODUCTIONJR