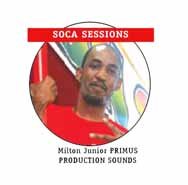 Soca, Chutney, Calypso, Steelband And Masquerade
One of the biggest events in the Caribbean calendar will soon be upon us. Trinidad and Tobago carnival, with its usual display of costumes, fetes, music and energetic celebrations comes on the Monday and Tuesday before Ash Wednesday, which falls this year on February 12 and 13.
On those two days and the weeks leading up to them, the country is transformed into a boiling-pot of music and activities showcasing why it's known as the land of steelpan, calypso and masquerades.
And a highlight of the carnival is the crowning of the champions in each of those categories.
The Panorama or steelband championship competition will be held on Saturday, February 10th at the Queens Park Savannah. Trinidad All Stars are defending.
The Soca Monarch will be crowned on Friday, February 9. Voice is defending.
The Calypso Monarch will be crowned at Dimanche Gras on Sunday 11th February at the Queen's Park Savannah where 15 contenders are up against the Mighty Chalkdust trying to dethrone him.
The 2018 Chutney Soca and Calypso Monarch has already been crowned at Skinner Park in San Fernando on Saturday, January 27, and the duo Neval Chatelal & Nishard Mayhroo are now the champions, copping the first prize of $300,000 with the song, "Massala." Omardath Maharaj placed 2nd with his song "Me and My Motorcar." Nirmal "Massive" Gosine, whose song "Row Lee Mudda Count", caused controversy in recent weeks, placed in 3rd.
Finalists for the Calypso Monarch are
1. AARON ST. LOUIS aka  – "YEAR FOR LOVE"
2. ALANA SINNETTE-KHAN aka LADY  – "DEAD BEAT"
3. CARLOS JAMES aka SKATIE – "AH CUTBACK"
4. DEXTER PARSONS aka THE STINGER – "CHINESE TUITION"
5. HELON FRANCIS – "CHANGE"
6. JOANNE ROWLEY aka TIGRESS – "ROWLEY TO ROWLEY"
7. KARENE ASCHE – "SONG OF INSPIRATION"
8. KURT ALLEN aka THE LAST Bad JOHN OF CALYPSO – "CIRCLE SQUARE SCIENCE"
9. MICHAEL LEGERTON aka PROTECTOR – "WE COULD DO BETTER THAN THAT
10. MICHAEL OSOUNA aka SUGAR ALOES – "FINALLY"
11. MYRON BRUCE aka MYRON B  –  "THE GREAT NATION"
12. RONDELL DONAWA -"DE PROBLEM"
13. SANDRA DES VIGNES MILLINGTON aka SINGING SANDRA – "POWER IN SONG" 14. SELVON NOEL aka MISTAH SHAK –
"REBELLION"    15. STACEY SOBERS – "CALYPSO CAPITAL"
16. HOLLIS LIVERPOOL CHALKDUST (Defending Monarch)
RESERVES:
RODERICK GORDON
aka CHUCK GORDON – "
CAMPAIGN TRUCK"
We all know this Carnival season came early this year and the hot Soca tunes are in full rotation.
If you wanna know what's hot in Trinidad now. Without anymore preamble and delay, I present to you the hottest 2018 soca so far in my chart. BOOOOOOOOOOOOM
Production Sounds Chart  
1. Soca Kingdom – Machel Montano – Superblue
2. Savannah – Iwer George
3. Hulk – Blaxx
4. Sweet Fuh Days -Patrice Roberts
5. Showtime – Machel Montano
6. Lit – Motto x Lyrikal
7. Splinters – Shal Marshall
8. Hello – Kes The Band
9. ITF – Ultimate Rejects
10. I Shall Return – Kes The Band
Island Facts:
– Feb 7th 1986 – Haitian President-for-Life Jean-Claude Duvalier flees    to France; Henri Namphy becomes leader of Haiti.
Feb 10th 1989 – Tony Robinson of Jamaica becomes Nottingham's 1st    Black sheriff.    
Productionsounds@gmail.com or Instagram : @Productionjr