Come experience a unforgettable night.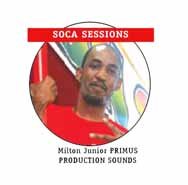 It's Montreal's biggest end of season fete. It's the one  that always feature the last international Soca artist for the year. On November 7 it's third edition,  Touch Of Red is going on and is guaranteed
to be better than the rest.
I'm always asked why "RED" and not another color.
This is why. Out of all the colors in the universe only one color, that is the most used and the most important of all colors in terms of communication and expression. Red! I strongly believe that everyone has a Touch Of Red in them.
So party-goers are asked to wear something red: a shoe, lipstick, handbag or  hair. Red must show.
And anticipation is rising. This fete seems to be the most hyped event in 2015.
Some say it's because of the artist and rgw line-up djs, others say that the event has fallen on a time when Soca music is being craved the most.
Either way the wait is almost over. The Touch Of Red 3 is on Saturday November 7.  The hottest Bajan artist Hypa Sounds will be performing in Montreal for the first time.
Hypa Sounds earned third place in  Barbados Party Monarch competition.
He has never been to Montreal so his appearance  is long overdue. Hypa has a lot of Soca hits but he is known internationally for these four mega hits "ROLL IT", "DUTTI",
"SUGAR RUSH" & "HOW SHE LIKE IT".
Hypa Sounds is truly thrill and excited to be here since Montreal is his only Canadian stop on his 2015 "SUGARY TOUR".
As Trinidad and Tobago Carnival approaches, Soca is what dominating the airwaves and party scene.
"Touch Of Red" is my baby.  We all know the party scene is going from bad to worst so I have decided to bring one artist a year to this event.
Touch Of Red reaches out to partygoers from every island and culture that love Soca.
In 2013 we brought a Trinidadian soca star. In 2014 it was SVG's turn and now 2015 we're paying respect to the Bajan massive.
I see this event as my  contribution towards building a better soca scene in Montreal.
Touch of Red  has some of the top Soca Djs in Montreal and Ottawa on the bill including "Energy Squad" from Boom
Station,  JACKPOT  Jugglaz" Montreal new Vincy sensation and from Ottawa "Sweet Chunes" the Soca King.
Also yours truly Production Sounds" from Teamsoca.com will represent.
Island Facts :
– Nov 17th 1976-Cindy Breakspeare Jamaican Beauty Queen was crowned Miss World.
Be free to send your feedback on any of my
articles to Productionsounds@gmail.com or Twitter : @Productionjr
Production Sounds Chart
1 How she like it – Hypa Sounds
2 No Behavior – Cloud 5
3 Trap Queen – Fetty Wap
4 All Ah We – Peter Ram
5 Bum Bum – Third Bass
6 Puppy Tail – Demarco
7 Sugar Rush – Hypa Sounds
8 Granny – Granny & Baron
9 Rental – Farmer Nappy
10 Like It – Faith Antoine
Soca Sessions – Saturday 2am to 4am (90.3FM)
WWW.CKUT.CA
Island Scoop – Community Contact Article
www.commuintycontact.net
FaceBook – Production Sounds (Montreal)