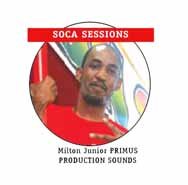 Time and time again we've heard stories of Montreal past Soca scene, how Montreal had the biggest carnival in Canada, how people from all over put our carnival on their yearly agenda.
How the Soca fetes used to be full to capacity along with the vibes, how Montrealers were always up to date with Soca music, how Djs worked together, how our carnival committee was efficient and effective.
Now all we hear is negative comments about the Soca scene in our small community. In life, I realize people love to spread negative news, rumours and confusion, but when it comes to the positive they deceitfully brag at funerals when dead cannot hear them.
This is the reason I came up with a project called "THE ROAD TO MONTREAL CARIFIESTA" to promote our carnival, which will be held on Saturday, July 1, 2016.
Starting April 1 to June 10, I will be featuring different DJs to play Soca on my radio show, "Soca Sessions", on CKUT 90.3fm, every Friday night/Saturday morning from 2am to 4am. Here's a list of the DJs that have volunteered to be a part of this project, and the dates will be live.
April 1st – "Dj Nicolas" – Popularly known on Montreal airwaves, Dj Nicolas is West Indian Riddims' resident DJ every Saturday from 4-7pm on CKUT 90.3 FM.
For 12 years, this Vincentian-born DJ has been in the business, demonstrating his love and passion for Soca music. Don't be mistaken, he is versatile in many musical genres, but his heart is in Soca.   April 8th – "DJ DRU", a member of the popular Bajan sound crew Renegade International Sound, a musical powerhouse that has been dominating the scene in Barbados for over 20 years. Since migrating to Montreal "Dj Dru" has been carrying the Renegade International Sound torch.
April 15th – "Digital Movements." These four DJs (DJ Bobby Payne, Powda, Wiz, Buzylee) from SVG, Trinidad, Antigua and Jamaica) are considered the most culturally-diverse sound in Montreal. They are known for being the first DJs to make that digital shift from Records to CDs in Montreal over 15 years ago.
April 22nd – "Energy Squad Int'l." Comprised of two experienced members, Anthony G & Selecta Jinx who have Grenada and Trinidad influences.
August 2016 will be five years that the Energy Squad was officially formed as a sound crew. Since then, they have put in a lot of work, both locally and internationally, so they carry the title, "Montreal New Soca Kings."
April 29th – Dj Mistah Vik & Kutting Edge Tassa Crew – This will be a special night for Chutney Soca lovers, featuring Montreal Chutney Taasa band and Soca Dj Vik. Dj Mistah Vik of Trinidad and Guyanese background is dedicated to pushing Chutney Soca.
Kutting Edge Tassa Crew is Montreal's newest Tassa group (four members). Only two months in the business, they've decided to take things in hands and start promoting their culture.
May 6th – "Color Squad" – This Sound crew (made up of four members) is fairly young, six years in the business. Most people see them as a Grenadian Soca outfit, but they are much more than that. Each of them is from different parts of the Caribbean, with a different style.
May 13th – "Mix N Hitz" – Another known name on Montreal airwaves. Mix N Hitz can be heard at times on Sunday's with Pat Dillon Moore during Bhum Bhum Tyme on CKUT 90.3fm.
Musically inspired by his father, I consider Mix N Hitz a DJ who takes great pride not only in what he does, but how it's done.
May 20th – "Jackpot Jugglaz." Out of SVG, this crew of three selectors are the most underrated sound in the business. When you hear Jackpot Jugglaz you naturally associate them with Hip Pop or Dancehall, but they are strong defenders of Vincy Soca.
June 3rd – "Nemesis" –  Another culturally diverse sound in Montreal  that's made up of five members. Being in the business for a period of  nine years they are known for there versatility and ability to capture  both a young and mature audience.
June 10th – "Spice Connection" – I believe Shevon Jones and Leroy  Corion aka Spiceman to be the only Djs  to defend the Grenadian  culture to its fullest.
Also known for playing other genres of music  they always make sure their cultural connection to Grenada is known.      In a time when the crabs-in-a-barrel mentality has become potent  amongst Djs. I've decided to create a platform giving the above Djs an  opportunity to not only show their talents but help the audience  understand their goals, mission and intent in this city.
Most misunderstandings in the our community could be avoided if people  would simply take the time to ask and not jump to conclusion. Tune in  every friday on Ckut 90.3fm or online www.ckut.ca and get to know your  local Djs on a personal level. Phone lines will be open giving the  fans a chance to interact live 514 448 – 4013.
Production Sounds Chart  
1 Cheer of Life – Voice  
2 Bon Mon Ami – Angela Hunte  
3 Oh Yah (remix) – Olatunji & Runtown  
4 Human – Machel Montano  
5 People – Kes  
6 Party – Shal Marshall  
7 Trouble – M1  
8 Scene – Nutron  
9 Carnival Groupie – Machel Montano  
10 Bum Bum – Third Bass