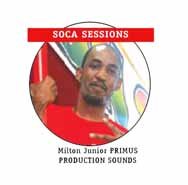 I have great news for Montreal Soca lovers.
Your resident DJ Production Sounds has been an official member of the elite group called Team Soca since late 2014.
Over the years I have been saying to myself that it's only a matter of time before we have a vehicle to help Soca music, make its big international breakthrough.
Also to help  make information on Montreal's Soca scene accessible to people around the world.
You must have likely heard of TeamSoca.com and their online radio station with skilled DJs, and of course their unique clothing line.
I can now say with authority that Team Soca is the biggest  exclusive Soca movement to hit the world.
The  concept and movement was founded in 1986, but the website and online station WWW.TEAMSOCA.COM was created in 2010 by DJ Spice who was born in Trinidad, but currently lives in Brooklyn, New York.
He was awarded 7x, the International Soca DJ Of The Year title in United States.
Today, the Team Soca movement is known for its quality online radio station, skill and professionalism of their international DJs, as well as their recently-launched clothing line.
TeamSoca.com Online radio station has become a one stop for all your Soca needs on an international scale. It's the place where one can get carnival updates and hear  the latest Soca music and Soca news, fetes info, Caribbean business info and much more. TeamSoca.com is worldwide, at your fingertips. Download the Team Soca app from your smartphones and iPad app store. Also available on TUNEIN RADIO APP. Simply log onto the website WWW.TEAMSOCA.COM and listen to the top Soca DJs/hosts from around the world 24/7 and hear some of the best DJs in the world, including Freeze International (New York), Gary Banton (Boston), DJ Kaotic (Trinidad), Soca Mafia (London), Majestic (Washington DC), Alvin Toppin (Barbados), DJ D-One (Holland), and many others.
Check me out on www.teamsoca.com every Monday from 8pm to 10pm.
Island Facts:
– March 2, 1972 – Michael Manley becomes the fourth Prime Minister of Jamaica.
Be free to send your feedback on any of my articles to Productionsounds@gmail.com or Instagram @ProductionJr
Production Sounds Chart
1. Party Done – Angela Hunte & Machel Montano
 2. Like A Boss – Machel Montano
 3. Circles – Kerwin Dubois
 4. Pop A Bottle – Machel Montano
 5. No Apology – Kerwin Du Bois
 6. Cloud 9 – Lyrikal
 7. Lucy – Destra
 8. Loner – Lyrikal
 9. Ola – Olatunji
 10. My House – Farmer Nappy