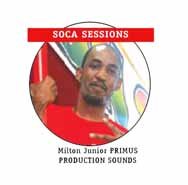 Scotiabank Toronto Caribbean Carnival, aka Canada's biggest
Carnival is over, and I can just imagine the withdrawals you guys are experiencing, something we Trinis call "Tabanca."
It's a form of "love sickness." It can be described as a state of depression accompanied by withdrawal symptoms, such as can't eat, can't
sleep and a few other feelings that can occur when one has been rejected by a potential love interest, or experiences some sort of loss.
So when is the next Soca fix in Montreal before we head to New York for Labour Day weekend?
At the Montreal International Reggae Festival, which took up the Soca torc
h by adding both international and local Soca artistes to its Reggae cast, and after that we got Bajan Invasion.
It first began in 2010, when they decided to make the Friday night of the Festival the "Caribbean Night" which staged the world's historical Soca band, Byron Lee and the Dragonaires alongside the St. Vincent legend Beckett and his band. Unfortunately, the turnout that night was not as expected by the organizers, so they went back to the drawing board.
In 2013, the organizers tried again to bring Soca back to the Festival by adding Soca artist "Kes The Band" from Trinidad to the Saturday night line-up. This night, called Day 2 and known as the Dancehall night turned out to be a major success; for that reason, the "Queen of Soca" Alison Hinds, from Barbados, was added in 2014.
In 2015 they have added the talented artiste Delroy "Fireman" Hooper from out of Saint Vincent and the Grenadines and Lead Pipe and Saddis from Barbados. For the non- Bajans you must have heard Condense, Ah feeling ah feeling, Ben Up and Carnival Addiction. These are just a few of the many hits coming from the power duo Porgie and Murda aka Leadpipe & Saddis. Although their names were a bit confusing to me at first, their talent and ability to move you with their chants are not. I later learnt that Porgie and Murda have been popular artistes and actors from a sitcom in Barbados for many years.
Thank to Soca artistes like Fireman Hooper, Lead Pipe and Saddis and Montreal's dynamic Daddy Ghost, you are definitely getting your Soca fixat the International Reggae Festival.
Bajan Invasion is an annual Toronto-based Soca event now in Montreal that focuses one hour strictly to Bajan music. On Friday, August 21, at V Lounge, legendary Bajan artiste, Edwin Yearwood, from the big band Krosfyah will be in Montreal to perform at this event. Edwin Yearwood recently won the Sweet Soca competition during 2015 Crop Over with the song, "Party Ah De Year."
This win puts Yearwood in the history book for wining every Crop Over award available, as he got the  final jewel in the crown of his illustrious career.
Trust me, Bajan Invasion is surely gonna be a treat, especially for the mature Soca lover like myself. If you still don't know this artist just simply ask your parents if they remember hits like "Road Jam", "Pump Me Up," and "Sak Passé" and more from Krosfyah.
Island Facts:
– Aug 4, 2005 Michaelle Jean, a Haitian-born woman, appointed as
Canada's Governor General.
– Aug 6, 2001-Jamaica celebrates independence from Great Britain/England.
Be free to send your feedback on any of my articles to
Productionsounds@gmail.com or Instagram : @ProductionJr
 Production Sounds Chart:
1 All Ah We – Peter Ram
2 Dutty – Hypa 4000
3 Trap Queen – Fetty Wap
4 Mash up – Skinny Fabulous
5 Way Up Stay Up – Chi Ching Ching ft. Popcaan
6 Puppy Tail – Demarco
7 Sugar Rush – Hypa Sounds
8 Dah Ain Bad – Porgie
& Murda
9 Party Ah De Year – Edwin Yearwood
10 7eleven – Dexter Daps