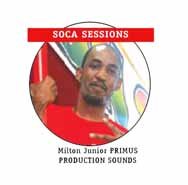 Is it only me or have you guys notice a big improvement in the Montreal Soca scene this year?
Unlike previous years, Montreal soca lovers are up to date with the music, and more and more people are going to parties.
For this, they should give thanks to two online stations BoomStation.Net and TeamSoca.Com.
We all have heard the stories of Montreal in days gone by, and how this city once had the biggest carnival in Canada. How people from all over put our carnival on their yearly agenda. How we once had a carnival committee that was efficient and effective back then and how the parties in Montreal was filled to capacity and full of vibes.
Well we have to press the reset button.
Spreading the music far and wise might be a way to get the good times back to Montreal.
BoomStation.Net and TeamSoca.Com are two popular Caribbean online stations and each have recently adopted a Soca dj from Montreal.
This move helps to create strong links between our city and what's goes on internationally.
Veteran Montreal djs Energy Squad can be found on BoomStation.Net every Sunday from 9pm to 12am. And Production Sounds can be heard every Monday on
TeamSoca.Com 8pm to 10pm.
Both shows give the world a good sense of what we have to offer.
Good soca fortune has finally smiled on our city and soca lovers can't take it for granted and must continue to support the scene as it grows.
Remember that Color Code 3 is around the corner on Saturday, April 25 and signals the return of Montreal's only 100% Soca event. Soca from the time you walk in to the time you walk out. What makes Color Code unique over the years is giving party-goers the opportunity to wear their respectful relationship status: Green – Single, Blue – Taken, Red – Horning and Yellow – Contented.
This year Color Code features an international dj from out of 104.7fm in Trinidad, DJ DARK MAN.
Color Code 3 will be held in the beautiful Catalogna Lounge 775 1st Ave. Lachine.
Island Facts:
– Apr 11th 1967 – Jamaica's second Prime Minister, Donald Sangster, dies in the Montreal Neurological Institute, Canada, following a stroke.
March 21st 1967, a month before he died, he was knighted on his death bed.
 
Production Sounds Chart
1. Party Done – Angela Hunte & Machel Montano
02. Loner – Lyrikal
03. Body Specialist – Gully Bop
04. Like A Boss – Machel Montano
05. No Apology – Kerwin Du Bois
06. Lucy – Destra
07. Circles – Kerwin Dubois
08. New Jordans – Vybz Kartel & Rvssian
09. My House – Farmer Nappy
10. Pop A Bottle – Machel Montano
Send feedback to productionsounds@gmail.com or Instagram: @Productionjr