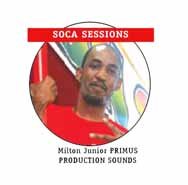 Will also tour Ottawa and Toronto
It is well known that music can alter your emotions,
attitude and mindset.
Sad songs do make you cry, while catchy, upbeat songs can make you  excited and energetic. On the other hand music can also send you on a journey back in time. Let me introduce to you a young DJ who's the son of a well-known musical pioneer  in Trinidad. Jovaughn Primus aka Selector Pro, is my little
Brother,  and another offspring of Trinidad legendary deejay Production Sounds.
Many Montrealers are aware of Production Sound's musical contributions and the  role he played in molding  a long list of  international DJs such as Howie Tee, Star Child and others.
It might be safe to say that the Production Sounds legacy has also been passed on to his sons in Montreal as well as in Trinidad.
Selector Pro, 26, is no stranger to the entertainment life. He has been a Disc Jockey at Trinidad's #1 radio station 96.1fm (OJO)
for almost four years.
Selector Pro is in Canada for the first time and will be doing his first Canadian tour of three cities.
Titled "ProTour"– it covers three major  events including "Firemania" in Montreal on September 30th, D'Avenue" in Toronto on October 6th, and "BAM BAM" in Ottawa  on October 7th.
Montreal already knows that the anticipation is growing for
the annual FIREMANIA FETE, dubbed Reloaded and it will be held at L'Atelier d'Argentine, 1458 Crescent St., in downtown Montreal.
The event has proven to be a powerhouse on the Montreal entertainment calendar over the last nine years and the best way to spice up the start of the fall season.
And my little talented brother "Selector Pro" will take music lovers in the city on a musical journey exploring multiple genres of music.
Firemania Fete is a premium event brought to you by Montrealdancehall.com.
Over the years, the team  of Fire Empire Productions and MAWGA K has  helped to redefine the party scene in Montreal.
On September 30, Firemania is expected to
another sold-out event. Doors open at 10pm sharp. Tickets.
www.ticketgateway.com.
Info: text to 514-377-3473.
Follow Selector Pro on Instagram: @selectorpro.
Island Facts:
Sept 19, 1983 — The twin island nation of Saint Kitts and Nevis
gains independence from the UK.
Sept 25, 1970 — The first scheduled flight of a Pan Am Jumbo jet
to Jamaica marks the beginning of a new age in tourism.
Production Sounds Chart
1 Split In Di Middle – Freezy
2 Brave – Dynamite
3 Single – Orlando Octave
4 Banga – Aidonia
5 Full Extreme – Ultimate Rejects
6 Fast Wine – Machel Montano
7 Baila Mami – Nailah Blackman
8 She Bad – Turner
9 Big Girl – Patrice Roberts
10 Like Nike – Kerwin du bois\Lavaman
Send  feedback on any of my articles to
Productionsounds@gmail.com or Instagram : @Productionjr