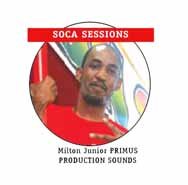 Right now Soca lovers from across the globe have started their departure to Piarco International Airport in time to experience Trinidad and Tobago Carnival finale on February 8, 9.
Yes!
Carnival season is early this year for Trinidad and Tobago, hence the reason fetes and party-goers have already switched into full gear despite the reported recession. Three weeks before Christmas last year, the Central Bank of Trinidad and Tobago has announced that this country is officially now in a recession.
A word that Montrealers and the world at large is familiar with, but the  question now is: how does it affect the Carnival.
As the country thinks about the effect of the recession on carnival and warns everyone about the increase of white-collar crimes, many seasonal activities are impacted.
The International Soca and Chutney Monarch as well as the Kiddies Carnival all suffer major cuts in there budgets. Many big fetes such as QOB Wednesday (Destra's fete), Fire Fete and more were forced to cancel because of insufficient ticket sales.
Meanwhile looking at a some of the other major competitions this carnival.
On January 24th, KI Persad won the 2016 Chutney Soca Monarch competition taking home the TT$1M prize MONEY . On the flip side the Traditional Chutney Monarch, Rooplal Girdharrie only took home TT150,000 for first place.
Many are outraged and claim its unfair and that The Traditional Chutney Monarch should receive more.
For the first time ever a International Soca DJ Competition was held in Queens Park Savannah on January 30th.  DJ's from all over the world were given the opportunity to demonstrate their skills with  Soca Music.
Hundreds of mixes were submitted but only twenty finalists were picked to show their skills live and put on a spectacular performance. Only four sounds (Dj crew) were able to emerge on top and they are:
1st Place: Xcaliber International ft. Dawg E. Slaughter (Trinidad & Tobago)
2nd Place: Jr. Mafia Sound ft. Nigel Snipes & DJ Skull (Trinidad & Tobago)
3rd Place: DJ Kirk Brown (Barbados)
4th Place: The Artform ft. Fro Hummer & DJ Element (Trinidad & Tobago)
This is a competition I will be interested in taking part in 2017.
Island Scoop readers are already aware of the changes in the 2016 International Soca Monarch. Being that the Power Soca category and the Groovy Category have been merged into just one competition.
The Soca Monarch competition will now have a total of 17 finalists, to perform on Fantastic Friday (February 5th). As
for the Breakout Artiste category,
NO. FIRST NAME – LAST NAME  – SOBRIQUET
1 AARON  ST.LOUIS    –   VOICE
2 ADRIAN HACKSHAW    –  THIRD BASS
3 AKEEM CHANCE  –    PREEDY
4 AKIL         BORNEO       –    5 STAR AKIL
5 DAMIAN     ETIENNE        –   HYPASOUNDS
6 DARRYL   HENRY      – FARMER NAPPY
7 DEVON  MARTIN       – LYRIKAL
8 DEXTER     STEWART   –    BLAXX
9 JASON,PRINCE, SHAQUILL, KEVIN PHILLIP, ANDREWS, JONES, CUDJOE – CLOUD 5
10 NESTA BOXILL                          –     SEKON STA
11 PATRICE ROBERTS               –   PATRICE ROBERTS
12 RICARDO BARRITEAU            –    RICARDO DRUE
13 RONNY           BOYCE                      –   PTERNSKY
14 SAMRAJ JAIMUNGAL                    – RIKKI JAI
15 SHURWAYNE
WINCHESTER          –    SHURWAYNE WINCHESTER
16 STEPHENSON   MARSHALL     –    SHAL MARSHALL
17 TEDDYSON JOHN                   -TEDDYSON JOHN
18 OLATUNJI YEARWOOD                        OLA*
*Defending International Soca Monarch 2015
This year several soca artistes who produced big tunes for Carnivals over the last few years, seem to have fallen off the map in 2016.
While the young and upcoming artist are on the rise. Look out for "Voice" with his hit song "Cheer Of Life"
biggest song for the season.
Island Facts :
 
– Feb 7th 1986 – Haitian President-for-Life Jean-Claude Duvalier flees to France, Henri Namphy becomes leader of Haiti.
 – Feb 10th 1989 -, Tony Robinson of Jamaica becomes Nottingham's 1st
Black sheriff
Productionsounds@gmail.com or Twitter : @Productionjr
Production Sounds Chart
1 Cheer of Life – Voice
2 Oh Yah – Olatunji
3 Human – Machel Montano
4 Mon Bon Ami – Angela Hunte
5 Take over Town – Bunji
6 Bum Bum – Third Bass
7 How she like it – Hypa Sounds
8 Scene – Nutron
9  Party – Shal Marshall
10 No Behavior – Cloud 5