Catherine Clemencia JOSEPH 




1952 - 2022
Our community lost a loyal and dedicated supporter and worker with the passing of Catherine Joseph in early December 2022, after a courageous battle with cancer. She was 70.
Described as a woman of God, who was kind, passionate, loved her family and friends dearly, Catherine is being remembered also for her consistent presence and quiet support of various community and church events and activities, touching the hearts of many with kindness and her wonderful disposition.
She was born in Trinidad and Tobago.
She leaves to mourn her husband; Arnold George, her sisters and brothers: Nella Parris (Arnold), Jennifer Baird (Kerwyn), Alfred Joseph (Lynatte and Val), Christopher Joseph (Nola), aunt of many and great aunt of many, cousins of the Davies, step-mother of Sarah and lots of other family and friends.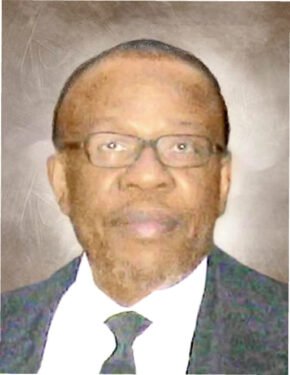 Remembering
Brother Lewin Samuel Bailey
Who died on January 10, 2019.
Officers and members of Abraha Grand Lodge (The Eastern Star)
Remembers Brother Lewin Samuel Bailey (33′ Past Grand Master, Past Grand Patron) on the third anniversary of his death.
Respect and R. I. P.
Honoring Pelé
Felix Nadeau
Football's greatest, Edson "Pelé" Arantes do Nascimento, dead at 82.
Rushed to the ICU during the beginning of the 2022 World Cup, Pelé, one of the 20th century's most memorable people, dies on December 29, 2022.
Succumbing to his battle with colon cancer and numerous organ issues (namely heart and kidneys). Born in São Paolo on the 23rd of October 1940, a young Edson would grow up like many other Brazilian youths, in poverty. Taking refuge in athletics by focusing on football and making a name for himself in his hometown as a teenager.
Scouted for his incredible skillset, local club Santos Futebol Clube took him on after leaving the Bauruu Youth Club in 1956, starting his pro career at 15.
His speed, agility, striking prowess, and leadership made him a star in Brazil and was named to the 1958 World Cup national team, where he would make himself known internationally after aiding in Brazil winning its first World Cup title and being named best young player of the tournament scoring six goals during the competition.
His mononym Pelé translates to "Wonder" or "Miracle", an appropriate title for the only person to win three World Cups. His career was spent exclusively with Santos outside of his short stint in the MLS from 1975-1977.
At the height of his career, In 1961 the government of Brazil under President Jânio Quadros declared Pelé an "official national treasure" to prevent him from being transferred out of the country.[11][24] (this is the main reason why he never spent his prime years outside of his hometown).
Pele is acclaimed to be among the most successful and popular sports figures of the 20th century.
He is labelled "the greatest" by fans the world over as well as FIFA,
In 1999, he was named Athlete of the Century by the International Olympic Committee and was included in the Time list of the 100 most important people of the 20th century.
In 2000, Pelé was voted World Player of the Century by the International Federation of Football History & Statistics (IFFHS) and was one of the two joint winners of the FIFA Player of the Century.
His 1,279 goals in 1,363 games, which includes friendlies, is recognised as a Guinness World Record.[3]
After joining the Brazil national team at 16, Pelé won three FIFA World Cups: 1958, 1962 and 1970, the only player to do so. following the 1958 tournament.
Pelé is the joint-top goalscorer for Brazil with 77 goals in 92 games.
He was Santos's all-time top goalscorer with 643 goals in 659 games, he led the club to the 1962 and 1963 Copa Libertadores, and to the 1962 and 1963 Intercontinental Cup.
Recognizing his status as the best ever, Pelé the best-paid athlete in the world during much of his playing days,. After retiring in 1977, Pelé was a worldwide ambassador for football and made many acting and commercial ventures.
In 2010, he was named the honorary president of the New York Cosmos Football Team.
FIFA bestowed Pelé with the Player of the Century award and continues as the de facto GOAT (greatest of all time) for much of the footballing world. May he rest power.