Celebration the life of Geoffrey Allen
With heavy hearts we announce the passing of Geoffrey Allen.
Geoffrey leaves behind siblings, children, grandchildren, nieces, nephews, other relatives and friends.
Funeral service to be held at St. Joseph of Nazareth Anglican Church, 725 Boul. Provencher, Brossard, QC J4W 1Y5 on December 10, 2022 at 10am
Repass will be held at the reception hall of the church.
Flowers may be sent on December 9th, 2022 to St. Joseph of Nazareth Anglican Church, 725 Boul. Provencher, Brossard, QC J4W 1Y5
Monetary donations can be sent by e-transfer to candece.allen@gmail.com
Memorial for
Beverley Eloise Artery Roache
Our Love for you will not wane – Gone, but not ever forgotten
It is hard to believe that it is almost five years, that sunny day on December 8, 2017, near noon, when God called you home. We still remember it vividly. How can we forget. That is what happens when someone, who is beautiful through and through deeply touches the hearts and lives of many, in ways that is unimaginable.
That was you, Mom. Even though you may not be physically with us, it is uncanny how you continue to help and guide us in special ways. Be it through our memories of you, our dreams, or the values that you inculcated in us, that has made us who we are today, and which has been passed to another generation.
When you look down from heaven at those little people who you held dear to your heart, you will be proud and thankful.
They are growing into the fine men and woman you always wanted them to be. Mom, thank you for being the best mother, wife, nana, sister, daughter and friend. We miss and will always love you.
Percival S. Lewis

Passed away November 27, 2007 (15th Anniversary)
Looking back with memories
Upon the path you trod
We bless the hours we had with you
And leave the rest to God
Lovingly remembered by his wife,
Gloria, and family and friends.
God Bless You
Remembering
Lindon "Pete" Peterkin
One year has passed and we are thinking of our fearless lion Lindon "Pete" Peterkin, our father, grandfather, brother, uncle, friend and husband to Cynthia his beloved wife.
His presence, warmth, kindness and wonderful sense of humor are greatly missed by all.
Dad, you will always remain in our hearts and minds.
As each day passes, we miss you more, but we know that you are in heaven looking down on us. Gone too soon, not a day goes by we don't long to have you back with us.
"Those who we love don't go away they walk beside us every day. Unseen, unheard but always near; still loved, still missed and very dear" (Anonymous).
Thank you to all who have supported the family this past year and for keeping him and us in your thoughts and prayers.
Dad, we love you always. Rest in Power and Peace.
With Love, your family, and friends especially wife Cynthia, children Andy, Judy, Christine, Jessica and Pat and your grandchildren and great grandchild
Blair O. Bostic
Sunset: Nov 12,2015
Remembered fondly by family and friends.
Mother, Muriel, wife, Senella, children, Sheldon, Shonda, David and Ester; sisters, Marcia, Debra, Jennifer, Juanita and brother, Richard.
Wesley Van Reid aka Reidy
July 31, 1944 – November 29, 2005
He Is Not Gon
e
Ease your grief, he is not gone, For in your heart, he lingers on.
His smile, his laugh, his special way, Will comfort you, from day to day.
You'll feel his presence in the breeze, That dances gently, through the trees.
And it's his face that you shall see, When you're in need of company.
At any time, you can recall,
The love you shared. you saved it all.
And in time, more than anything,
You'll find peace in remembering.
You are sadly missed by your loving wife Chubby (Elvena) and loving daughter Lorie and your family and friends in Jamaica.
We love you and you will always remain in our hearts.
Memoria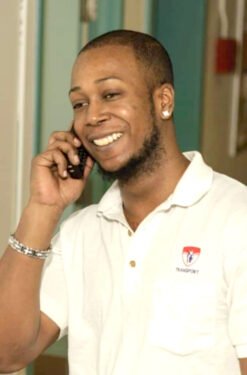 l of
Dane Kelly Rivas
Sunrise July 4th, 1982 Sunset Nov 17th , 2021
A brother, a father, a son and a friend who is still loved and cherished
Gone but not forgotten, forever in our hearts.
Sleep on until we meet again.
From the family