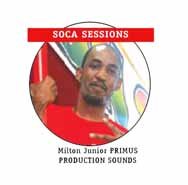 This year is a leap year, which comes every four years and has 366 days instead of the usual 365. The leap day is added to the month February.
This year February has also become an emotional roller coaster for many in the reggae industry. Both Jamaican and international reggae lovers around the globe are mourning the death of a popular artist's son as well as celebrating the achievement of an other reggae artists at the recent the Grammy Awards.
In my last article for 2015, I mentioned the 58th
Annual Grammy Awards that took place on Feb. 15.
The top four picks for the Best Reggae Album category were:
Branches Of The Same
Tree – Rocky Dawuni
The Cure – Jah Cure
Acousticalevy –
Barrington Levy
Zion Awake – Luciano
Strictly Roots –
Morgan Heritage
After 20 years in the Reggae music industry, Morgan Heritage has finally won a Grammy.
The band was formed in 1994 by five children of reggae artist Denroy Morgan made up of Peetah Morgan, Gramps Morgan, Nakamyah Morgan, Memmalatel Morgan and the lone female, Una Morgan.
Praises and congratulations for the Grammy success came from far and wide, including People's National Party leader and Jamaica and former Prime Minister Portia Simpson-Miller; Stephen, Ziggy and Rohan Marley; the U.S. Embassy Jamaica; Tessanne Chin, Maxi Priest, Shaggy and John
Legend and many more.
On a sad note, 19 year-old Menelik McClymont, son of reggae star Luciano (Jepther McClymont) was stabbed and killed during an altercation with unknown assailants on the evening of Saturday, February 27.
Luciano is using every possible media outlet to plead to the public for information about three men that stabbed his son to death.
Island Facts:
 
– Mar 2nd 1972 – Michael Manley becomes the fourth Prime Minister of Jamaica.
 
 
 – Mar 9th 1974 – Jamaican dancehall artist Don Yule aka. The Golden
Child was born Jason Andrew Williams on this day.
 
Be free to send your feedback on any of my articles to
Productionsounds@gmail.com or Twitter: @Productionjr
 
Production Sounds Chart
1 Cheer of Life – Voice
2 Bon Mon Ami – Angela Hunte
3 Oh Yah – Olatunji
4 Human – Machel Montano
5 People – Kes
6 Party – Shal Marshall
7 Trouble – M1
8 Scene – Nutron
9 Road Trip – Machel Montano
10 Normal – Destra