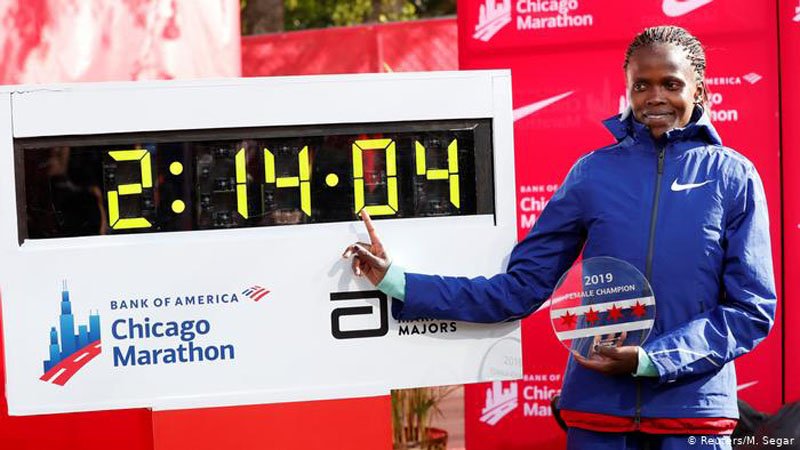 For the past 16 years, Paula Radcliffe's women's world record of 2:15:35 remained unmatched. However, on Sunday October 13, Kenyan athlete Brigid Kosgei shattered the record with a time of 2:14:05
She added to a weekend of great exploits by Kenyan athletes. On Saturday October 12, Eliud Kipchoge was the first athlete to run a marathon under two hours with a time of 1:59:40.
His achievement comes a year after setting the new marathon world record in Berlin in September 2018 (2 hours and 1.39). It had been said that it was impossible for an athlete to run 42.195 kilometers in under two hours.
Kosgei said she had Kipchoge on her mind ever since she saw that he ran a marathon in Vienna on Saturday morning in the once-inconceivable time of 1 hour 59 minutes 40 seconds.
"I kept saying, 'Tomorrow is my day,'" she is quoted as saying. "I wanted to be the second Kipchoge — the Kipchoge for women. I focused on that."
Kosgei's world record is the fifth set at the Chicago Marathon, and the first since Radcliffe set a world record here in 2002. In 1984, Steve Jones broke the men's world record with a 2:08:05. In 1999, Khalid Khannouchi became the first runner to break 2 hours 6 minutes in the marathon with a time of 2:05:42. In 2001, Catherine Ndereba broke the women's record in 2:18:47, and Paula Radcliffe ran 2:17:18 the next year.
For Kipchoge to achieve this record special conditions were induced. Firstly, an armada of pace makers took turns running in an A line formation in front of Kipchoge. This was to act as windbreakers. He also wore futuristic Nike shoes and had cyclists who gave him water so he didn't have to stop. Even the day a schedule was chosen according to favorable weather conditions (temperature, humidity, air quality) and even … the autumnal fall of the leaves of the trees closely controlled.
Due to these special conditions, the International Athletics Federation (IAAF) will not homologate the performance.
He had attempted a similar feat in Italy in 2017 in Monza; however, he missed it by 25 seconds.
I followed the same training, my team is the same, but I still improved my mind," he explained before his attempt. "I feel better prepared and confident."
Eliud Kipchoge's athletic history is definitely one for the books. He was the winner of the marathon of the Rio Olympics (2016), The Paris 5000 meters in 2013. This time he said he wanted to "run for history." He has definitely entered this Saturday.
Since his incredible feat the hash tag, #nohumanislimited based on his mantra has been trending, inspiring many to challenge themselves to do the seemingly impossible.