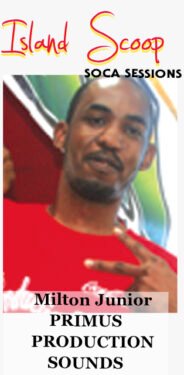 American producer DJ Khaled pulled together an all star cast of Dancehall and Reggae collaboration for his new album "Khaled Khaled."
Who is Dj Khaled : Born as Khaled Mohamed Khaled on November 26, 1975 in New Orleans, Louisiana, he was exposed to music at a young age.
His Palestinian parents were musicians who encouraged their son's love for rap and soul music. His brother, Alec Ledd (Alla Khaled) is an actor.
DJ Khaled was originally known as the Arab Attack
He has made his name as a record producer, radio personality and DJ who has produced 11 studio albums since 2006, including Grateful (2017), which spawned his first no. 1 single, 'I'm the One, and Father of Asahd (2019).
As a music producer, he's collaborated with artists such as Lil Wayne, Jay-Z, Mariah Carey, Beyoncé, Justin Bieber, Kanye and Nicki Minaj.
Khaled became president of Def Jam Records South in 2009 and also co-founded the record label We The Best Music Group. He also served as a judge on the singing competition series, The Four.
Recently DJ Khaled revealed the track-list for his upcoming album, "Khaled Khaled," and Jamaica is well represented on it.
The album's Track 13, "Where I Come From", is an all-star collab featuring Buju Banton, Capleton, Barrington Levy and Bounty Killer.
Khaled, who was spent some time in Jamaica recording for the album, posted a picture of the four legends on his Instagram some weeks ago.
Dj Khaled has been teasing the team effort off his upcoming album "Khaled Khaled" from as far back as October, and anticipation for the positive vibes was at a high among the dancehall/reggae fanbase.
The ultimate track on DJ Khaled's new "Khaled Khaled" album, 'Where You Come From,' was composed using Barrington Levy's 1984 hit Under Mi Sensi as its foundation.
In addition to remixed instrumentals and samples of select vocals from Levy's original song, Khaled's new track also features the lyrical stylings of Jamaican music icons Bounty Killer, Buju Banton, and Capleton.
'Where You Come From' was released April 30th as the closing track on DJ Khaled's 12th studio album.
Since the release of the track 'Where You Come From', it racked up over 60,000 views on YouTube, while thousands more around the world streamed the album on their favorite music platforms.
The feedback on all social media platforms has so far been overwhelmingly positive, evidence of fans' approval.
The dancehall fraternity now acknowledges that the album confirms Dj Khaled's "Jamaican passport" .
He makes no secret of his love for Jamaica and its culture and has declared himself to be an honorary 'yaad man' since he was a teen.
The album was released Friday April 30, and lists his two sons, Aalam and Asahd as executive producers.
Khaled was also seen catching a vibe with Koffee, stirring speculation whether he will be working with the Grammy kid soon.