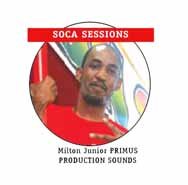 "From you wake up this morning you are a winner…" That's the first line from International Soca Monarch King "Voice" hit song titled, "Cheer Of Life", was heard all throughout Montreal Carifiesta weekend as partygoers and Masqueraders sang along.
2016 Carifiesta weekend was surely a weekend of energy, excitement and vibes as many jump up from Friday straight to Sunday. Everyone had a different take of how Montreal

Carifiesta should've been, but looking through a positive lens let us all agree that we needed Carifiesta weekend. I always believe Carifiesta weekend including the parade is the time we enjoy our culture and keep the Caribbean tradition alive.
For the party scene, having the Montreal Soca Music Festival for the first time was a great idea that presented live artists' performances both Friday and Saturday.
The Carifiesta Parade itself was definitely full of energy, paint, oil and more, but I believed a little more color
was needed. I don't want to take away from the T-shirts, bands, Jab Army, Haitian or Costume bands this year, but the display of the sailor band on the streets of Montreal was a sight for sore eyes. What topped off the whole Carifiesta weekend was the daytime Rhum fete Boat ride on the Sunday.
Montreal Carifiesta is done, so what can we look forward to before Toronto Carnival? Jamaica Day (July 9th), Vincy Picnic (July 16th), Chutney Invasion (July 16th) and Trini Day (July 17th).
Chutney Invasion features Hemlata Ramdin, Randy Recklez Ramdin and Raymond Ramnarine, lead singer of his family band, Dil E Nadan, known as the # 1 Chutney group. Considered the world's
Number one crossover chutney soca band, the band started in the early 1960's with their dad as one of the founding members.
Ramnarine has won many awards, including best male artiste, song of the year, and best lyricist, and even the Chutney Soca title in 2013. He was born in San Fernando and grew up in Gasparillo—Caratal Road to be exact—and attended the Gasparillo Hindu School, and then the Gasparillo Composite
School.
Montreal look out for this amazing and traditional Chutney
Artiste, July 16th at Chutney Invasion.
Island Facts:
– July 22, 1962 – An Air France Boeing 707 jet crashes in Guadeloupe killing 113.
– July 29, 1952 – Reggae vocalist and founding member of Black Uhuru, Euvin Spencer, better known as Don Carlos, was born on this day in the Waterhouse district of Kingston.
Be free to send your feedback on any of my articles to
Productionsounds@gmail.com or Instagram @Productionjr
Production Sounds Chart
1 Champion – Dwayne "DJ" Bravo
2 Cheer of Life – Voice
3 Dem Vincy – Mason
4 My Dream – Nesbeth
5 Bruck Off Yuh Back – Konshens
6 People – Kes
7 Leh We Fete – Ricki Jai
8 Don't Come Back – Tarrus Riley
9 Champion Boy – Alkaline
10 Carnival Groupie – Machel Montano