Finish the 2015 season in style. Touch of Red on Nov. 7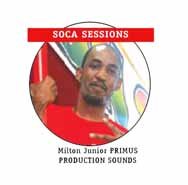 The Sugar Rush man "Hypa Sounds" from Barbados is coming to Montreal for the first time?
First and foremost, Happy belated Thanksgiving to all the Community Contact readers. Always remember to be grateful for what you are, and have.
Fall is here and Miami Carnival has come and gone, which means that it's the time when most artists are releasing their 2016 Soca hits. So how did 2015 treat Soca lovers?
Personally, I would say pretty well, despite the fact that we had no Soca artists during our 2015 Carifiesta celebrations.
I recall only six events featuring live Soca acts this year, such as Lyrikal performance at "Rhum Fete" (March), Lavaman & Flipo at "Truth or Dare" (April), Gabby "TOTC (June), Edwin Yearwood "Bajan Invasion" (August), Lead Pipe & Saddis alongside Fireman Hooper at "MIRF" (August), Drupatee, Hunter and Terry Garaj at "Chutney Invasion" (October).
Over the years the number of Soca artists coming to Montreal to perform has diminished.
So we want to finish 2015 in style. We have the newest Bajan sensation "Hypa Sounds" performing in Montreal on Saturday, November 7, at the annual "Touch Of Red" fete.
Born Damien Etienne on December 5, 1982, Hypa Sounds is based in Barbados.
Hypa Sounds got into the music business as a professional DJ, where he made his mark, such as DJing on 106 & Park.
In 2006 he released his first single "Sun Shine Girl" which was nominated for Best Ragga-Soca Single Male at Barbados Music awards.
Since then Hypa has been following up with hit after hit in Barbados, including 2012's "Roll It" which gave him the international break. That was followed up with "Dutti" in 2014-15, and now in 2015…16 two monster hits "Sugar Rush & How She Like It."
Hypa Sounds earned a pick in both 2015 Sweet Soca and Party Monarch with his hits "Sugar Rush" and "How She Like It," but placed third with his song "How She Like It" at the Party Monarch competition in Barbados.
Let's say 2016 is the year for "Hypa Sounds."
I witnessed him in person while in New York for Labor Day weekend, and on Social Media during Miami Carnival. The impact both hits had on the parties and the number of times played on the trucks was phenomenal. Definitely, Hypa Sounds is a major act to look out for at 2016 Trinidad Carnival.
Luckily for us, he will be in Montreal for the first time on Saturday, November 7. What a way to end the 2015 Soca season which has been a treat for Bajans with the visits of Edward Yearwood, Lead Pipe & Saddis and now Hypa Sounds.
Great!
– Oct. 14, 1983 – Grenada Coup led by  Bernard Coard.
 
– Oct. 15, 1994 – President Jean-Bertrand Aristide returns to Haiti after living in exile in South Africa following a 1991 coup.
Be free to send your feedback on any of my articles to
Productionsounds@gmail.com or Twitter: @Productionjr
Production Sounds Chart
1 How she like it – Hypa Sounds
2 No Behavior – Cloud 5
3 Trap Queen – Fetty Wap
4 All Ah We – Peter Ram
5 Bang Bang – Olatunji
6 Puppy Tail – Demarco
7 Sugar Rush – Hypa Sounds
8 Dah Ain Bad – Porgie & Murda
9 Dutty – Hypa 4000
10 Like It – Faith Antoine