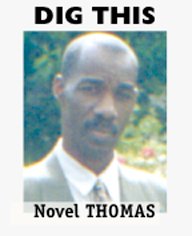 Recent results from the St. Henri-Saint Anne by-elections brings back in focus the inglorious departure of Dominique Anglade from the political arena of Quebec
I believed Anglade's political likability quotient was high as she battled nefarious forces to maintain her political stature and status in the narrow and fragile world of politics in this province.
Clearly, business acumen and other abilities and skills don't necessarily translate into success in the fragile, language-based world of politics here.
One of the primary obstacles in her path to greater political acceptability in high office was the blatant lack of support (even) from people within her own parti Liberal du Quebec.
It was obvious from the get-go when she attained the leadership of the party almost by default. It was obvious that throughout her campaign for the position she was afforded more lip service than actual political support of (her) colleagues.
She was now a political insider, but from my perspective wasn't whole-heartedly embraced as such.
That became blatantly clear the night of Monday, March 13, 2023 when Anglade's Liberal party suffered a crushing defeat at the hands of what can still be referred to as a relatively new upstart quote "progressive, left-wing, nationalist provincial political party Quebec Solidaire, officially formed in February 2006.
In Montreal nationalist political circles, Quebec Solidaire, now led by Gabriel Nadeau-Dubois. In addition to advocating the independence of Quebec from Canada, the party's platform identifies with the concepts of environmentalism, feminism, social justice, proportional representation and participatory democracy, pacifism, aboriginal rights, and alter-globalism, led by one Guillaume Cliche-Rivard in the traditional Saint Henri-Sainte-Anne riding by-election.
It was a stunning defeat of the Liberals in the riding where they have been historically strong.
Montreal COMMUNITY CONTACT PUBLISHER, editor, writer and radio commentator, in a recent broadcast on CJAD 800 AM said the Liberal party turned its back on Anglade primarily because she was a racialized woman, and placed itself in the political wilderness.
It's not hard to argue with that position; the party is politically hobbled at this juncture.
Former Quebec Liberal Party cabinet minister and recurring talk show host on CJAD David Huertel didn't see any future for Dominique Anglade who is of Haitian origin as leader of the provincial party, let alone as premier of Quebec; she was indeed une Quebecoise, but she wasn't pure laine, essentially writing her off as leader.
Another English radio commentator put it this way the morning after "She had no party support…"
She never had any party support from the get-go has been my position. I didn't see any parade of ministers nudging party members or current ministers (left overs from the better days of the party, which was always a force to be reckoned within provincial politics.)
I remember those days living in Sainte-Henri when a by-election was a shoe-in for the Liberals. Those days are long gone with the rise of soft nationalist leader Francois Legault and his CAQ party, which is now the party to beat in Quebec elections, be they by- or general provincial-election.
As she entered the National Assembly in her new role as official leader of the Liberal opposition in the political house of power in Quebec City, she was given a warm (and sincere?) welcome by members of the various parties.
It was an unprecedented position for the new leader of one of Quebec's major political parties for Dominique Anglade, former engineer, businesswoman and other roles as she was readying herself to wade into political waters (some describe it as a 'cut throat' affair in the world of Quebec politics.)
That said, she seemed comfortable and ready for the task at hand, given the fact that her feet had already been wet, having served as a MNA since 2015 as the representative of Saint-Henri–Sainte-Anne in Southwest Montreal, an historic area of the city for many Black residents from Eastern Canada, specifically Nova Scotia and other Maritime provinces, as well as the Caribbean.
At the time She was the first woman to lead the Quebec Liberal party (PLQ) in its 150-year history when she rose to the position on May 11, 2020 after her sole rival dropped out of the leadership race.
But her new role was short-lived, and I can mention predictable. Yielding to critics, and I can safely mention hypocrites, Anglade decided to quit as Quebec Liberal leader.
The Montreal area was her political base; most of the Quebec population are outside the Montreal region, in rural Quebec; many political commentators are quick to state that obvious point for anyone who dreams of becoming a provincial political party leader.
One of the points Quebec political commentators are quick to mention for anyone who dares to lead a provincial political party leader, especially an historical… traditional one such as the parti Liberal du Quebec.
So Mme Anglade did the right thing, putting her stressful political party dreams to rest, and get on with the rest of her personal life. Why subject herself to political and other forms of hypocrisy.
As we now know she's a very qualified and skilled human being with much to offer, in business and other fields of endeavor.