Meet Lettia McNickle
If my readers have n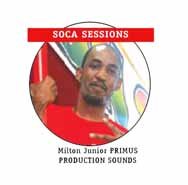 oticed, since my return from Trinidad my articles have been on a different path. I prefer to focus more on local affairs rather than international.
I'm more worried about our Caribbean community and the state of our West Indian culture. That in mind, I want to acknowledge those that have positively contributed, such as Eric Blagrove and James Bond. I've even created a platform on my CKUT 90.3FM radio show, allowing 11 Djs the opportunity to showcase their talents. When all this is over, what will I be left with when I retire?
Just the hope that I helped many in my community, and that I'm remembered as a decent guy.
This issue I want to talk about Lettia McNickle. A year ago this name was broadcasted on Global news, CBC, CJAD 800 and almost every other Montreal news outlet.
A few months ago, the name was mentioned in an incident that occurred at a local club, which ended with international entertainer Wally British's video going viral on youtube. Skip forward to now and the name is now connected to the 2016 Miss Montreal Carnival Queen.
You must know her name, or heard what she has done. If not, then here's her story.
Lettia McNickle is a Canadian-born, 21-year-old female with Caribbean roots. Her father was born in Jamaica, her mother in St Vincent. She is currently a student at Vanier College where she writes for the campus newspaper, the "INSIDER."
Last year Lettia McNickle was a victim of racial discrimination at her job at Madison's Grill in downtown Montreal, where she worked as a hostess.
One day the franchise owner saw her at work with her hair braided and she was sent home. They claimed that her hairstyle wasn't appropriate for the work environment. Today she is still fighting the case in court.
A few months ago, Lettia McNickle attended an event featuring "Wally British", a Jamaican comedian/entertainer. Wally British asked any female to come to the mike and name their male companion. A young lady came up and named Lettia McNickle boyfriend who she has been dating for three years. The incident was captured on video and went viral, getting over 51,000 views, shares and likes throughout across social media, making it a major turning point in her life, and putting her on a new trajectory.
After ending her three-year relationship with her boyfriend, Lettia McNickle decided to follow in her mom's footsteps and pursue a career in modelling.
Since 1988, Lettia's mother, Huelette McNickle, has been modeling. She has won both Miss Quebec and Miss St. Vincent pageants in Montreal, but stopped entering pageants when she became pregnant with Lettia in 1994.
On June 4th Lettia McNickle took part in the second annual Miss Montreal Carnival Queen show. Six contestants made it to the finals. They include Karine Antoine (Miss Haiti), Candy Bajoon (Miss Trini), Lettia McNickle (Miss Jamaica), Bianca Ruest-Callam (Miss Grenada), Vanessa Smith (Miss Canada), and Antonia Wynne (Miss SVG).
Lettia represented, in memory of her father, who recently past away. She walked away with the crown, winning in three categories: People Choice Award, Best Swim Suit, and Best Evening Wear.
Other winners were Candy Bajoon, (Trini Best Talent), Miss Congeniality , Most Photogenic (Candy Bajoon) (Trini). Second Runner-up      – Karine Antoine  (Haiti), First Runner Up -Candy Bajoon (Trini); 2016 Miss Montreal Carnival Queen, Lettia McNickle.
This was an intense competition, with all the ladies competing fiercely. But in the end Lettia took the crown, winning by one point. In my view, obstacles help build character.
Lettia McNickle has become a stronger woman through her many challenges.
Island Facts:
– June 10, 1940 – Marcus Mosiah Garvey founder of the UNIA and a national hero in Jamaica died in London of heart faliure.
– June 12, 1972 – Dancehall artist Bounty Killa born in Trenchtown    Kingston, Jamaica.
Be free to send your feedback on any of my articles to Productionsounds@gmail.com or Instagram @Productionjr
Production Sounds Chart
1) Champion -Dwayne "DJ" Bravo
2) Cheer of Life – Voice  
3) Dem Vincy – Mason  
4) Oh Yah (remix) – Olatunji & Runtown  
5) Bruck Off Yuh Back – Konshens  
6) People – Kes  
7) Leh We Fete – Ricki Jai  
8) Same Gyal wice – KI  
9) Champion Boy – Alkaline  
10) Carnival Groupie – Machel Montano