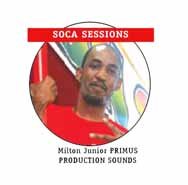 This summer's Montreal International Reggae Festival 2016, the largest outdoor reggae festival in Canada, is expected to be the best one.
The 13th edition of MIRF, which runs the weekend of August 26, 27 and 28 at the Old Port Of Montreal will offer three days of diverse genres of Caribbean music: "Dancehall, Reggae, Roots, Lovers Rock, and a touch of Soca.
Day one of the festival, Friday, August 26, kicks off with a lineup, which includes performances from Ammoye, Mel Dube, Chelsea Stewart, and headliner for the night, Cocoa Tea.
I first saw Cocoa Tea perform at the MIRF in 2013, and then in 2015. Both times the energetic artist from Clarendon, Jamaica, stole the show, but complained that he wasn't given enough stage time since the crows kept asking for more. Nevertheless, this year Cocoa Tea is back by popular demand and the MIRF organizers promise he will be on stage doing a full two-hour set.
Saturday, August 27 is "Dancehall Night." Some of the most popular Reggae artists, names such as Mavado, Vershon, Elephant Man, Spragga Benz, Sielle, Romie Se7en, Olatunji and 2i will take the stage, along with hit makers such as "Vershon" and classic Dancehall champions like "Elephant Man" will also be there. But no doubt about it Day two main attraction is "Mavado" the Gully God.
You may think that Olatunji is my personal favourite artist for that night, but "Spragga Benz" is a childhood favourite of mine.
Carlton Grant, a.k.a Spragga Benz was raised in the Southside community of Rae town, Kingston, Jamaica, and began his career at the beginning of the 1990s. I truly became a big Spragga Benz fan when he released "Jack It Up."
MIRF will close out on Sunday, August 28. "Roots, Lovers Rock and Reggae" will be plentiful that night; it's the type of music the conscious heads gravitate to.
"The Night of the Legends" is what I call this lineup: Barrington Levy, Sanchez, Romain Virgo, Jahmiel, Charlie Chaplin, Brigadier Jerry, Josey Wales, Kaisha Lee, Vernon Maytones.
No if or buts, Barrington Levy is a truly amazing, intimate performer and one of my favourite singers.
This MIRF line-up is the most versatile to date. My favourites may differ from yours, but I can guarantee that with these top artists you will leave the Old Port Of Montreal satisfied.
Island Facts:
Aug 14th 1791 – Controversial celebration when, during an alleged voodoo ceremony, slaves met and decided to begin the Haitian Revolution.
Aug 16th 1950 – Birthday of Hasely Crawford, Olympic Gold Medal, 1976 in Montreal 100m runner.
Be free to send your feedback on any of my articles to Productionsounds@gmail.com or @Productionjr
Production Sounds Chart  
1 No Behavior – Hypa 4000
2 Controlla – Drake ft. Popcaan
3 Dem Vincy – Mason
4 My Dream – Nesbeth
5 Bruck Off Yuh Back – Konshens
6 Comfort – Patrice Robert
7 Friend ting – Problem Child
8 Don't Come Back – Tarrus Riley
9 Champion Boy – Alkaline
10 The Tribe – Peter Ram