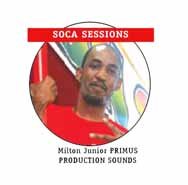 Let me first say Happy belated Diwali to all my Hindu friends and readers. I know it's late but hoping your Diwali was sparkling and full of fun and frolic.
October 18th was Diwali, which is celebrated by Hindus, Sikhs and Jains for a variety of reasons, but the main theme Is the triumph of light over darkness, and good over evil.
This time of the year is when they take a look at one of the most significant festivals in the East Indian culture: Diwali, the festival of lights.
The fall season is here, Miami carnival is over, and the 2018 Soca season has begun.
Soca artistes are marketing their songs in preparation for 2018 Trini Carnival. We only have two months left before we hit 2018, and the question I ask myself is: Are you ready for Montreal Biggest end of Season fete?
Touch Of Red 5, is an event that always features an International artiste from a different island every year. In 2017, Grenada will be represented with a live performance by the International Soca artiste Skinny Banton.
Shirlan George, aka Skinny Banton, hailing from the Tri island state (Grenada, Carriacou and Petite Martinique) is penetrating the soca music industry with his unique and diverse ragga sound/Style.
His love for music was identified at the tender age of 12 and has blossomed into what some might call the "Jab Ambassador."
Skinny Banton gained International recognition in 2015, as he advanced to the semi-finals of the International Power Soca Monarch in Trinidad and Tobago with "Soak it Good." The hit single was originally released in 2014 and went to a higher level of international recognition on the rising success of Jab Jab music all across the globe.
The year, 2015 was also  a great year for Skinny Banton, with the release of many hits such as "Front Yard Wet" "Freedom To Whine" and "Ready To Chip." These releases landed him a nomination in several categories in the first annual Grenada Music Awards where he was the recipient of the Soca Artist of the Year award. His additional nominations included "Best Combination song of the year", "Jab Jab song of the year", "Music Video of the year", "Power Soca song of the year" and "Groovy song of the year."
Known as the Jab Ambassador, Skinny Banton has a unique repertoire of Soca music. This makes him the perfect candidate to represent the Grenadian theme at the fifth edition of the event, Touch Of Red, which will be held on November 11 at Club Le Cinq in downtown Montreal.
More information will in the next issue of the Contact.
Island Facts
– Oct 14, 1983 – Grenada leftist coup under vice-premier Coard
– Oct 15, 1994 – President Jean-Bertrand Aristide returns to Haiti after living in exile, following a 1991 coup.
Be free to send your feedback on any of my articles to
Productionsounds@gmail.com or Instagram : @Productionjr
Production Sounds Chart
1 Bad in BumBum – Mighty ft. Subance
2 Split In Di Middle – Freezy
3 Lil Natty & Thunder – Top Striker
4 Brave – Dynamite
5 Yeah Yeah – Aidonia
6 Give It To Ya – Marzville
7 Banga – Aidonia
8 Baila Mami –
Nailah Blackman
9 She Bad – Turner
10 Combine – Kes