Chutney Bacchanal comes to Montreal on April 30
Chutney Soca music in Montreal is misunderstood, by being perceived just as an East Indian-Hindi genre.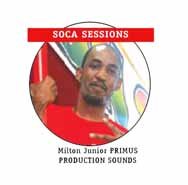 I grew up listening to and appreciating Chutney Soca music, because it's my culture.
So on Saturday, April 2, I was given an opportunity to help celebrate Dj Jerry's birthday party at Caribbean Paradise by supplying the music.
Whenever you talk about "Chutney Soca" in Montreal you cannot forget the pioneers that  promoted this genre over the years, people like Dj Jerry and Dj Chum Chum.
Most Chutney Soca lovers might be aware that in 1987 when Drupatee Ramgoonai dropped her first album, "Chatnee Soca," is when the genre "Chutney Soca" was officially branded. Well, let me educate you, because the man who created "SOCA" by combining soul with calypso was the one who also gave birth to Chutney soca.
In 1974, when Trinidadian Ras Shorty I released "Om Shanti Om" there was not yet a name for this combination of musical genres.  Shorty infused soca with traditional classical Indian percussive instruments, Om Shanti Om" was arguably the first Chutney Soca recorded.
Internationally, the widespread popularity of Chutney Soca, especially among Trinidadians, Guyanese and others, can be credited to the introduction of the Chutney Soca Monarch competition in 1995, which was open to all performers. Rikki Jai and Drupatee soon became household names, along with others like Ramrajie Prabhoo, Heeralal Rampartap, Sonny Mann, and Rooplal Girdharie.
Chutney Soca has found a place in carnival fetes and Soca concerts and is enjoyed by increasing numbers of people.
Again, I would like to thank Chutney Soca promoter Jai Ramdass for the invitation to help celebrate Dj Jerry's birthday. It was a wonderful feeling and a privilege to be able to play Chutney Soca for my peers.
Jai Ramdass has been promoting Chutney Soca and events in Montreal for 12 years by introducing many artists and live bands to Montrealers.
I cannot forget Anil Maharaj, the first promoter to book me for a Chutney Soca dance many years ago. Anil Maharaj, aka Maharaj Productions, has been a promoter for 16 years; in that time he has created a bond and partnership with Caribbean Curry House to bring many international Chutney Soca artists to Montreal. Dj Jerry, Dj Chum Chum, Jai Ramdass, Montreal Caribbean Curry House, Anil Maharaj and many others have also played an important role in the preservation of the Chutney Soca culture in Montreal.
Hence the reason I continue to do my part in promoting Chutney Soca in the community.
On April 29, I will dedicate my Ckut 90.3fm radio show, "Soca Sessions" to Chutney Soca music, featuring a few young talents, such as Dj Mistah Vik, a young Dj dedicated to pushing Chutney Soca. Kutting Edge Tassa Crew, Montreal's newest Tassa group will be there live, as well as Montreal local Chutney singer Shivanna; she will be my co-host.
This night is not only about entertainment, but also education, as well as a warm-up session for the big "Chutney Invasion", April 30, at Le Manoir.
Apr 11, 1967 – Jamaica's 2nd Prime Minister, Donald Sangster, dies in the Montreal Neurological Institute, following a stroke on March 21, 1967. He was knighted on his death bed.
 Production Sounds Chart  
1 Cheer of Life – Voice
2 Bon Mon Ami – Angela Hunte
3 Oh Yah (remix) – Olatunji & Runtown
4 Human – Machel Montano
5 People – Kes
6 Leh We Fete – Ricki Jai
7 Same Gyal wice – KI
8 Scene – Nutron
9 Carnival Groupie – Machel Montano
10 Bum Bum – Third Bass
Be free to send your feedback on any of my articles to  Productionsounds@gmail.com or Instagram: @Productionjr