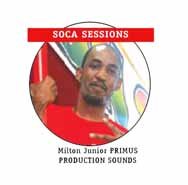 As the summer  approaches, most partygoers and promoters in our community are gearing up for the Montreal carnival season.
Carifiesta, the Montreal Black and Caribbean parade will be celebrating its 40th Anniversary on Saturday July 4.
Soon it will be time to crank up the a/c and ready the grill for a barbecue. Backyard party! As we Trini's say "Liming", bring the music, drinks and lets socialize with friends members and family. Summer gives a boost to our culture, and create an opportunity for us to build new and strengthen old relationships with each other. Here's a few well known events to look out for with in the next month.
Flight Soca Session Vol 2 (Soca mix)
Summer time without soca music, come on now. If you do not have a copy of my annual Soca mix cd which is sponsored by Caribbean Curry
House you should get your copy now cause its free. Copies are limited right now so to get your hand on one please pick up one at Curry House
or simply text / what's app me 514 862-6321.
 Carvibe" Saturday June 20th

I've been to this festival for a few years now and totally loving the vibes, Soca music, Costumes and the beach etc.  This is a annual celebration of Caribbean Culture in the Nation Capital, with a fusion cultures makes it the largest Caribbean event in Ottawa. This year they will be having two International Soca / Calypso artist for as low as $12 advance tickets. Chucky Gordon the two time Calypso
Monarch king alongside Olatunji the Groovy Soca Monarch king.
 A Taste Of The Caribbean June 26,27,28   2015
This year A Taste Of The Caribbean will be celebrating their 16th edition with a  3-Day Weekend Food festival & concert Series at the old port of Montreal. Friday night is dedicated to "Zouk & Kompa" as
Saturday is "Reggae & Dancehall" and Sunday "Soca & Calypso" this weekend is full of performers, games for kids lots of food and many
more.
J'Ouvert / Pre-Jump Up" Friday July 3rd
Unlike Caribbean J' Ouvert experiences which occurs on the streets prior to costume Mas on Carnival day. Here in Canada when we hear
J'Ouvert our first thought is the  fete that happens Friday before Carnival..  Carifiesta Friday we continue to have events in Montreal such as Summer Rave, J' Ouvert, Truth Or Dare and many more.
"Montreal Carifiesta" Saturday July 4th
Our very own Carnival!  The Carifiesta  parade takes place downtown Montreal on St Catherine St. Celebrating it's 40th edition this parade will include floats decorated with the colors of the countries being represented. Amazingly as everyone requested over the years, there will be on main carnival event that night "Soca Inferno" featuring
Olatunji and Destra Garcia.
Jamaica Day"  Saturday July 4th
On this day Montreal will celebrate it's Annual Jamaica Day
Celebration filled with music and visual arts by leading reggae artists and cultural performers held at Park Jean Drapeau at St Helene's Island. Just for the reggae crew Tony Mattherhorn from
Jamaica will be performing live at "CARNIVAL & JAMAICA DAY LINK UP".
There's a saying amongst the younger generation "YOLO" which means
"You Only Live Once". We all know life is unpredictable and time wait My advice for you this 2015 summer is Make it a goal experience these activities. Remember summer waits for no one.
Be free to send your feedback on any of my articles to
Productionsounds@gmail.com or Instagram @ProductionJr
Production Sounds Chart
1 No behavior – CJ Sounds ft Bigred
2 Credit Alone Done – Vybz Kartel
3 Trap Queen – Fetty Wap
4 Lean On- Major Lazer & DJ Snake feat MQ
5 Way Up Stay Up – Chi Ching Ching ft. Popcaan
6 Puppy Tail – Demarco
7 Like A Boss – Machel Montano
8 Dah Ain Bad – Porgie & Murda
9 Body Specialist – Gully Bop
10 7eleven – Dexter Daps