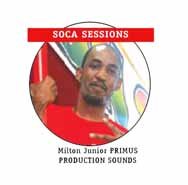 Three top Soca acts, MX Prime, Linky First and Ricky T at MIRF
It's a fact that Soca music is touching people in places one would find difficult to even believe.
Many are unaware that in the past most people had an ignorant mentality when it comes to having Soca acts in a Reggae Festival; Soca wasn't openly welcomed. But as times have changed so has that anti-Soca stigma as well.
Today, promoters understand that having Soca acts in these festivals is both financially beneficial and opens doors to new patrons.
This year, the Montreal International Reggae Festival has taken it up a notch by including three international Soca artists in the lineup. So, on Saturday, August 19th, International Soca artists Mx Prime & Ultimate Rejects, Ricky T and Linky First will hit the stage.
Also yours truly, Dj Production Sounds, together with another top local deejay Energy Squad, who will offer a continuous flow of Soca to music lovers at the 14th annual Montreal International Reggae Festival. Soca music is finally making a permanent dent in Montreal International Reggae Festival.
This year will mark the fifth consecutive year that Soca music and performers have been included at this amazing festival.
It began in 2010, when they decided to make the Friday night of the Festival the "Caribbean Night," by staging the world's historic Soca band, "Byron Lee and the Dragonaires" alongside the St. Vincent calypso/soca legend "Beckett and his band."
Unfortunately, the turn out on this night was not satisfactory to the organizers, hence the reason they went back to the drawing board.
In 2013, organizers brought back Soca to the festival, adding Soca artist "Kes The Band" from Trinidad, to the Saturday night line up, an evening known as the Dancehall night. It was a major success.
The "Queen of Soca," Alison Hinds from Barbados, was added in 2014.
In 2015 they went a bit more diverse by adding the talented artist Delroy "Fireman Hooper" out of Saint Vincent and the Grenadines, and the dynamic duo "Lead Pipe and Saddis" from Barbados.
Soca was again a big feature last year when the highly rated Olatunji of T&T made his first appearance in Montreal at the MIRF.
This year, it's again a privilege to be included for the second time in the Soca package, supplying Soca music and warming up patrons before the live performance of international Soca artist Mx Prime & Ultimate Rejects, Ricky T and Linky First.
Mx Prime & Ultimate Rejects won the highly coveted Trinidad 2017 road march competition and will be performing at the MIRF for the first time. He will be singing many hits, including "Full Extreme" which was declared as the people's anthem for 2017.
St. Lucian-born Ricky "Ricky T" Joseph, who currently holds the title as St. Lucia 2017 Soca Monarch/Road March king, will also be performing at MIRF for the first time.
Linky First is the first Jamaican artist to ever make it to the International Soca Monarch finals in T&T. His unique voice and smooth flow had the crowd jumping when he debuted with the song "Rock and Come In" on the Soca scene. He gained instant popularity.
Much more to the point, Soca music is all about making sure people have a good time, engage and interact with one another.
It's great that the organizers of the Montreal International Reggae Festival have Soca music and acts as part of this landmark event in the city.
Island Facts:
–    Aug 4th, 2005 – Michaelle Jean, a Haitian-born woman, is appointed as Canada's first Black Governor General.
–    Aug 6th' 2001 – Jamaica celebrates independence from Great Britain.
Be free to send your feedback on any of my articles to Productionsounds@gmail.com or Instagram: @ProductionJr    
Production Sounds Chart:
1. Split In Di Middle – Freezy
2. Brave – Dynamite
3. Single – Orlando Octave
4. Banga – Aidonia
5. Full Extreme – Ultimate Rejects
6. Fast Wine – Machel Montano
7. Baila Mami – Nailah Blackman
8. She Bad – Turner
9. Big Girl – Patrice Roberts
10. Like Nike – Kerwin du bois\Lavaman