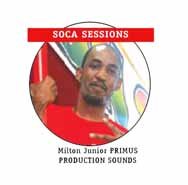 Caribbean traditions provide an important connection to the past and give meaning to our lives.
In keeping with those traditions, on December 25, I will be doing my 8th annual Christmas show, "Island Riddims" live on CKUT 90.3FM from 7 a.m. to 12 p.m. … pure Parang/Soca.
Traditions also provide a blueprint of things to do at certain times, such as my Christmas articles.
Three years ago I made reference to sorrel and its nutritional benefits. Then in 2012, I talked about ginger beer, a refreshing seasonal  favorite.
In 2013, I gave you the Ponche de Creme recipe, a timeless favorite.
This year I will talk about Pastelles a Christmas favorite in Trinidad.
They were not on my 'must eat' list, as they weren't something my parents made.
I do recall the Indian lady on our street sending some to my mom every year.
That's pretty much all I knew about this tasty Christmas treat, which is made from beef, pork or chicken.
Around this time of year I crave pastelles and wonder to myself if our Caribbean parents are still making them. Hence the reason I will share the recipe.
Trinidadian Beef/Chicken Pastelles
In Montreal you can find the fig leaves in a few West Indian stores, but if you are unable to, replace it with heavy-duty aluminum foil.
To prepare fig leaves, steam them in a large pot of boiling water for ten minutes until they become pliable. They may also be
softened by waving them over an open flame. You can also use sheets of tin-foil.
Cornmeal dough and Pastelle  assembly
Ingredients
2 cups yellow cornmeal
3 cups hot water
1/2 cup butter
1 1/4 tsp. salt
 Method
1. In a food processor or by hand, combine cornmeal with butter and salt.
2. Add water and process to make a soft, pliable dough.
3. Divide the dough into 12 balls. Cover with a damp cloth to prevent drying.
4. Place one piece of dough on a greased fig leaf and press into an eight-inch square.
5. Spoon two tablespoons of filling onto the middle of the dough and fold and seal Pastelles.
6. Wrap in fig leaf and tie into a neat package. (You can also use foil)
7. Steam Pastelles for 45 minutes until cooked.
Makes 12-15 pastelles.
 
Chicken and Beef Pastelle
filling
1 lb. chopped beef and chick
en, chicken only, or beef only
2 onions, finely chopped
2 tbsp. olive oil
1 cup chopped chives
1/4 cup chopped fresh thyme
2 pimento peppers, chopped
4 cloves garlic, chopped
1 tbsp. chopped celery
1/2 Congo pepper, seeded and
chopped (optional)
1 tsp. freshly ground black
pepper
1 tsp. salt
1/4 cup tomato sauce
4 tbsp. capers
3 tbsp. stuffed olives, sliced
1/4 cup raisins
2 tbsp. fresh thyme
Method
1. Combine beef with chicken. Add salt and black pepper.
2. Add a quarter-cup chopped chives and one-tablespoon thyme.
3. In a large sauté pan heat olive oil.
4. Add onion and garlic. Sauté until fragrant.
5. Add pimento peppers, remaining chive, pepper and thyme.
6. Add meat and cook until brown.
7. Add tomato sauce, cover and simmer for about 15 minutes.
8. Add raisins, capers and
olives and stir to combine.
9. Cook for about five minutes
more. Taste and adjust
seasoning.
10. Add two tablespoons fresh
thyme and stir to combine.
11. Remove from heat and
cool.
12. Prepare dough as in recipe
above and fill and fold
pastelles as indicated.
Makes 12-15 Pastelles.
 Enjoy and share with your friends and family.
Production Sounds Chart
01. Ola Ola – Olatunji
02. I'm Phenomenal – Benjai
03. Pop Bottles – Machel Montano
04.Ah Feeling
– Lead Pipe & Saddis
05.  Vagabond – Ricardo Drue
06. Benup – Porgie and Murda
07. Happy – Farmer Nappy
08.Respect the Elders – Crazy
09. Throat – Gage
10. Carnival Addiction – Lead Pipe
Send your feedback on  articles to
Productionsounds@gmail.com or twitter @Productionjr