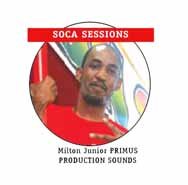 I was really looking forward to it
Someone asked me how I spent my Labour day weekend, if I went to New York City for the Caribbean Carnival festivities or not.
I told them that this Carnival junkie did attend the Brooklyn Caribbean Carnival, and was totally horrified when I almost died during the mayhem at my first J'Ouvert experience.
Last year was my first time experiencing the Brooklyn carnival, as I was booked for a big Soca event called "I AM SOCA."
After my DJ booking, I became a spectator when I attended the kiddies Carnival and watched the main parade on the Eastern Parkway. However, because of this, I unfortunately missed out on the J'Ouvert experience.
This year I went to NYC because I was booked again for the "I AM SOCA" event, but I wanted to experience J'Ouvert.
J'Ouvert, is  the pre-parade official start of the Carnival and ends around dawn (6am on Monday). Unsually it's a festival  of paint, mud, what is known as devil and more, but the costume, if I can call it that, is cheap because all you need is some old shorts and a comfortable pair of old sneakers.
Throw a vest/tank top, or bikini top with that for the women and you're set to get dirty, black from head to toe.
I was totally excited as it was my first time at Brooklyn J'Ouvert, as the vibes, people and crowd were different. What I love about Brooklyn is that it makes me feel as if I'm back home, as I'm surrounded by  endless West Indians.
Now my horrifying experience during J'Ouvert on Eastern Parkway in Crown Heights, Brooklyn, around 4am.  I remember I was at a vendor getting a beef patty and I saw a wave of people running in my direction and screaming. At first, I was confused and thought it was a fight, until I heard two gunshots and got trampled as someone bounced into me, knocking my drink and patty to the ground.
I got up, looked around and saw tons of police running in the direction of the gunshots. I took off in the opposite direction for a few blocks until I felt safe, and was able to catch my breath. I waited around a while trying to find out what happened and whether or not it was safe to go back to Eastern Parkway, as I had parked my car on a side street.
After, I found out from some J'Ouvert revelers that someone was shot dead.
I decided to get the car later and hopped in a taxi and went to my hotel.
It was later reported on the news and numerous radio stations that at least four people were shot, two fatally, during the J'Ouvert celebration in Brooklyn that day. Last year, an aide to Governor Cuomo was also killed by a stray bullet fired in Crown Heights during a gang shootout; also the year before.
Brooklyn J'Ouvert celebrations seem to be plagued with violent crimes and shootings. This experience will not hinder me from going to the Carnival Costume parade in the future, but surely I will never ever go to a J'Ouvert in Brooklyn again.
Island facts
Sept 19th 1983 – The twin island nation of St. Kitts and Nevis gains independence from the UK. Sept. 25th 1970 – The first scheduled flight by a Panam Jumbo Jet arrives in Jamaica, marking the beginning of a new age in Tourism.
Be free to send your feedback on any of my articles to Productionsounds@gmail.com or Instagram: @Productionjr
Production Sounds Chart
1 Calling in Sick – King Bubba
2 Controlla – Drake ft. Popcaan
3 So Good – Problem Child
4 My Dream – Nesbeth
5 Bruck Off Yuh Back – Konshens
6 New York- Bunji Garlin
7 Friend ting – Problem Child
8 Don't Come Back – Tarrus Riley
9 Trophy  – Problem Child
10 I.D  – Ricardo Drue