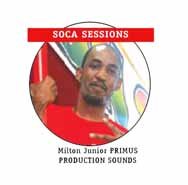 Jah Vinci and Lyrikal here on May 20
When have you last attended an event in Montreal that featured an international Reggae / Dancehall or Soca artist? It's been a while I bet.
Montreal entertainment scene has change drastically over the years, from bad to worse. No wonder party-goers seem discouraged.
My grandmother always says: "You really do not know how good you have it until it's gone".
That's why I will publicly admit that I miss  EB Club Lounge. You may not agree with me as many were preoccupied with the unfortunate things that occur during the days it was formally called Rainbow Ites.
However, that was a different time and different people. Eric Blagrove then took over the club; renamed it and invested a lot into it for numerous years until they finally called it quits in 2015.
I give credit to Blagrove for the effort he put into this club and the role it played in our community. EB Club Lounge created a platform where both local and international artists were able to entertain a wide range of  Montrealers.
Let's shed some light on what partygoers encounter and why the scene is deteriorating. Not only do we have to wait 'till the fourth month of this year to attend our first stage show in Montreal but there will be two artist representing two different genres and performing in two different event on the same day.
Jah Vinci will be the first Dancehall artist and Lyrikal is the first Soca artist performing in Montreal for the year both on May 20, at different events.
Jah Vinci who's real name is Kirk Rhoden burst unto the dancehall- reggae scene in 2008 with a collaboration with his then-mentor Vybz Kartel called "Weh Dem A Guh" on producer Stephen McGregor's Day Rave Riddim.
Since then most lovers of dancehall and reggae music have been falling in love with his music Trinidadian born Devon Martin started singing in the church choir at the age 7, once he realized he could actually sing he began
participating in school talent shows and neighborhood block parties.
He migrated to the United States at the age of 13, where he got heavily involved in soccer and track and field, but music prevailed.
By age 16 he was back at it. Now he's known as the "Soca King Of Brooklyn."
Look out for Lyrikal to be performing at Club Le Cin5.
Where have we went wrong?
Two big artists from the Caribbean will be performing on the same night at two different events.
Our Caribbean community is too small to divide the partygoers. It will be losing situation for all. Either way, go out and support.
Island Facts:
– May 3rd 1494 – Jamaica discovered by
Columbus; he names it "St Iago"
 Be free to send your feedback on any of my articles to
Productionsounds@gmail.com or Instagram @PRODUCTIONJR
Production Sounds Chart
1 Champion -Dwayne "DJ" Bravo
2 Cheer of Life – Voice
3 Dem Vincy – Mason
4 Oh Yah (remix) – Olatunji & Runtown
5 Bruck Off Yuh Back – Konshens
6 People – Kes
7 Leh We Fete – Ricki Jai
8 Same Gyal twice – KI
9 Champion Boy – Alkaline
10 Carnival Groupie – Machel Montano