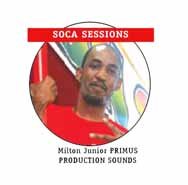 Cancellation of Carnival Kingdom and Big People Fete but Trini Day is on
I always say to my Soca lovers: If you don't respect your
culture, don't expect others to do so.
Many people were shocked and disappointed at Caribana 2018 as our culture was disrespected.
I know it's a last-minute thing, but finally Montreal Trini Day is on.
Many have taken to social media to demand answers as to why the city
of Vaughan cancelled the two biggest Caribana events, "Carnival Kingdom and Big People Fete", which was schedule to be held Caribana Saturday
and the other on Sunday.
Carnival Kingdom was the most anticipated event for Caribana Saturday. It featured Machel Montano, Bunji Garlin, Rupee, Voice, Ravi B, Patrice Robert and many others.
Hosted by Dr. Jay and SOSFestTO (Summer of Sound Festival Inc Toronto), this event, which has been running for the past seven years, had taken place in other venues such as Fantasy Fair Parking Lot and Wild Water Kingdom. This is the first time both concerts were scheduled to be held in the city of Vaughan.
Carnival Kingdom tickets were sold out a week prior, with doors scheduled to open on Saturday at 9 p.m., but the event team received a text from Vaughan authorities at around 7:15 p.m. stating that the permit for their sold-out concert had been revoked.
Vaughan city representatives have stated that the reasons for
pulling the plug on Carnival Kingdom and Big People Fete, is
mainly because of being over capacity and noise issues.
The City of Vaughan is coming under fire on social media after cancelling one of Caribana weekend's most highly-anticipated events just hours before it was set to begin this past Saturday night. As the Soca community are not accepting their "bogus" excuse. People are also confused as to how noise complaints come into play when the outdoor venue itself is located just north of Steeles and Keele, far from residences in an industrial area.
On top of that, organizers say they purposely measured decibel levels to avoid that problem, as well as the event had all of its permits in place and planning was priority throughout the process of presenting such an event.
This whole ordeal still leaves the Soca community upset as many lash out on Social Media with there assumption we are still left with this question: "What is the real reason for the City of Vaughan revoking the permit two hours before?"
It's a last minute "ting," but finally, as a Montrealer, I can proudly say we have a Trini Day this year. Montreal Trini Day is a display of Trinidad's culture: music, singing, dancing, etc., and considered one of the biggest outdoor events.
This year Montreal Trini Day will be held at John Abbott College – 21275 Lakeshore Dr. Ste Anne De Bellevue on Saturday, August 18, from noon to 9 p.m.
This year Trini Day will feature Chutney Soca artist Hunter and the beloved Eddie Charles.
Entry Fee 5$, kids under 8 years, free.
Come out and support Trini Day and see all that Westcan Folk Dancers, Dj Jinx, Dj Biggz, Chutney Soca dancers and others have to offer.
Island Facts:
Aug. 14, 1791 – Controversial celebration when slaves gathered to begin the Haitian Revolution during an alleged voodoo ceremony.
Aug. 16, 1950 – Birthday of Hasely Crawford, Olympic Gold medal -1976 Olympics, 100m runner.
Be free to send your feedback on any of my articles to
Productionsounds@gmail.com or @Productionjr