Busy Signal, Anthony B and Jah Cure
Did you know tha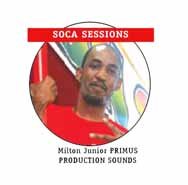 t artist like Busy Signal, Anthony B and recently Jah Cure had all been arrested by the Trinidad & Tobago authorities this year.
Why you may ask?
Well promoters in T&T are becoming frustrated with some of the dishonorable Reggae/Dancehall artists from Jamaica who
breach their contracts.
These promoters are now enforcing the "Absconding Debtors Act" law, against those artist who refuse to repay the money they owe.
Trinidad & Tobago Absconding Debtors Act authorize the authorities to arrest any person alleged to be indebted to a promoter and is preparing to quit T&T. So basically any artist that owes money to promoters for past events, can be arrested on T&T soil.
Jamaican reggae artist Jah Cure has become the latest international performer to fall victim to the law. He was arrested by marshals of the Port -of-Spain High Court shortly
after completing his performance at a show at the O2 Park in
Chaguaramas on the night of Sunday 27, September.
He was taken in front of a judge for owing a  Trinidadian promoter over TT $83,000 in performance fees for a concert
that he didn't spear in.
After negotiations, Jah Cure was able to pay US$6000
to the court and agreed to pay t
he remainder on the following day, which allowed him to leave the country.
In July 2015 dancehall artist Busy Signal was arrested before performing in a concert after a promoter sought emergency court intervention over an unpaid US $37000
debt.  Busy Signal was able to negotiate an agreement after paying US$15000 immediately and was later allowed to leave the country after agreeing to pay the balance in 30 days.
In May 2015, around mid-night on Saturday's Indian Arrival Day holiday Jamaican artist Anthony B was arrested after his performance at the Hasely Crawford Stadium, Port of Spain.  An emergency hearing before a judge who issued the arrest warrant for the Jamaican reggae singer after promoter Barry Lewis claimed he owed him money and Lewis's
attorneys filed an application for a warrant.
Anthony B was ordered to pay the promoter US$7,000 immediately and the balance of $27,976 or before June 30.
Definitely seem like Trinidad promoters are having Zero intolerance to these international artistes and their bad behavior.
Island Facts :
 
 – Oct 14th 1983 –  Grenada leftist coup under vice-premier Bernard Coard
 
– Oct 15th 1994 – President Jean-Bertrand Aristide returns to his seat
in Haiti after living in exile after a 1991 coup.
Be free to send your feedback on any of my articles to
Productionsounds@gmail.com or Twitter : @Productionjr
Production Sounds Chart
1 How she like it – Hypa Sounds
2 No Behavior – Cloud 5
3 Trap Queen – Fetty Wap
4 All Ah We – Peter Ram
5 Bang Bang – Olatunji
6 Puppy Tail – Demarco
7 Sugar Rush – Hypa Sounds
8 Dah Ain Bad – Porgie & Murda
9 Dutty – Hypa 4000
10 Like It – Faith Antoine