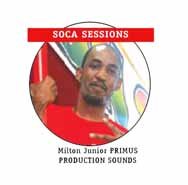 I would like to wish all the Community Contact readers a Happy and prosperous New Year.
I believe 2016 is definitely the year for changes, which have become evident in both the Soca/Carnival and Dancehall arena.
Change is the law of life, and those who look only to the past or present are certain to miss the future.
On the Soca scene, look out for big changes at the International Soca Monarch competition where the categories of the past Power Soca Monarch and Groovy Soca Monarch have been fused into one title: The International Soca Monarch 2016.
Also, the grand finals of the competition will no longer be
broadcast live, nor will the final results be announced until a fully produced show, edited and packaged, is aired on CNC3 on Carnival Saturday.
Many carnival followers will know that Production Sounds have been providing music for mas band Trini Revellers for about 30 years.
This year, the band's presentation on the road will be "A Touch of Woodbrook Then and Now", focusing on the history of the little bedroom community just outside Port of Spain and paying tribute to the icons that contributed to its development.
We know Carnival season is all about entertainment, culture, bacchanal and more. And there's no better way to portray it all through the history of Woodbrook, best known today as "the liming capital" of T&T.
Change is also the watchword behind the announcement by Dancehall artist Lady Saw who has declared that she is becoming a Christian.
Lady Saw says she has given it all up for God. It was during Singjay J Capri, whose given name is Jordan Phillip's funeral that Lady Saw said God spoke to her again and she said to herself that it's time to be a servant of God.
Lady Saw said that the Lord has been talking to her for years but she has been dodging the message. That's why immediately after the funeral service, she announced on Instagram that she was cancelling all her Dancehall shows, and then got baptized.
So for 2016 I will leave you with this:
Change means movement and we are all moving forward.
Island Facts:
– Jan 3, 1972 – Trini supergroup Xtatik's vocalist Peter C. was born on this day in San Fernando, Trinidad and Tobago.
Be free to send your feedback on any of my articles to email – Productionsounds@gmail.com or Instagram – @Productionjr
Production Sounds Chart
1 Carnival Groupie – Machel Montano
2 Oh Yah – Olatunji
3 Jumbo Jet – Bunji Garlin
4 Numb – Benjai
5 Bum Bum – Third Bass
6 Party – Shal Marshall
7 How she like it – Hypa Sounds
8 No Behavior – Cloud 5
9 Road Trip – Machel Montano
10 Carnival Today – Bunji Garlin
Soca Sessions – Saturday 2am to 4am (90.3FM) WWW.CKUT.CA
 
Island Scoop – Community Contact Article  www.commuintycontact.net
FaceBook – Production Sounds (Montreal)